World Economic Outlook Report: Key Facts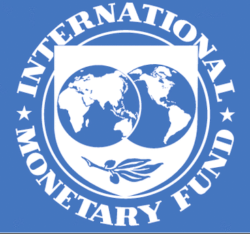 The International Monetary Fund has released the global wealth forecasts for 2019 in its World Economic Outlook report. The important findings of the IMF forecast are:
IMF cut its estimate for global growth in 2019. World Economic Outlook (WEO) projecting global growth at 3.5% in 2019 and 3.6% in 2020 is 0.2 and 0.1 percentage point below last October's projections.
The global forecasts decline in the October report was attributed to the negative effects of tariff increases enacted in the United States and China.
The further downward revision in the current report reflects carry over from softer momentum in the second half of 2018.
The impact introduction of new automobile fuel emission standards in Germany is expected to adversely impact on the growth.
In Italy, the concerns about sovereign and financial risks have weighed on domestic demand but also weakening financial market sentiment as well as a contraction in Turkey now projected to be deeper than anticipated.
The report notes that the range of triggers beyond escalating trade tensions could spark a further deterioration in risk sentiment with adverse growth implications, especially given the high levels of public and private debt.
These potential triggers include a no-deal withdrawal of the United Kingdom from the European Union and a greater-than-envisaged slowdown in
The forecasts for advanced economies has been revised downwards mainly due to downward revisions for the euro area and within the euro area, there was a downward revision for Germany and Italy due to the reasons mentioned above.
The US expansion may witness a reverse trend with the unwinding of fiscal stimulus.
The IMF forecast foresees a growth slowdown from 2.3% in 2018 to 2% in 2019 and 1.7% in 2020 for advanced economies.
The forecast foresees a growth tick down to 4.5% in 2019, with a rebound to 4.9% in 2020 for emerging and developing economies.
The projections for the emerging and developing economies have been lowered (0.2 percentage point) from October mainly because of a largely projected contraction in Turkey, downgrade to growth in Mexico in 2019-20.
The rebound in 2020 is attributed to an expected recovery in Argentina and
The headwinds due to weaker capital flows following higher US policy rates and exchange rate depreciations are reflected in the outlook for emerging markets and developing economies.
The cyclical forces which propelled broad-based global growth since the second half of 2017 are weakening faster than the IMF expected in October. Hence the downward revisions in the projections.
Month: Current Affairs - January, 2019
Topics: China • European Union • Germany • IMF • International Monetary Fund • Italy • Mexico • Turkey • United Kingdom • United States • World Economic Outlook
Latest E-Books