UNSC designates Masood Azhar as global terrorist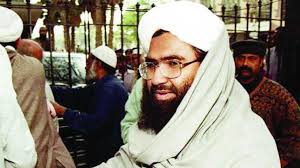 The United Nation Security Council (UNSC) 1267 Committee designated Pakistan-based Jaish-e-Mohammed chief Masood Azhar as a "global terrorist" after China lifted its prolonged hold on proposal to blacklist him. The move is a huge diplomatic win for India. It is also a symbolic victory for India in relation to terrorism spreading from groups in Pakistan as Masood Azhar is considered a blue-eyed boy of ISI (Pakistan's spy agency).
Timeline
India first moved a proposal by itself to designate Azhar in 2009 but it didn't get nod.
Later in 2016 India again moved the proposal with the P-3 (or group of three permanent UNSC members) the United States, the United Kingdom and France in UN's 1267 Sanctions Committee to ban Masood Azhar.
In 2017, the P3 nations again moved a similar proposal but, on all occasions China, a veto-wielding permanent member of UN Security Council, blocked India's proposal from being adopted by Sanctions Committee.
All big and small nations joined together for this and supported India's move.
In 2019, P-3 moved a fresh proposal to declare Azhar as a global terrorist at UN in wake of the Pulwama terror attack for which Jaish-e-Mohammed had claimed responsibility. 40 CRPF personnel were killed in attack.
China again put a technical hold on P-3 proposal, and blocked it for the fourth time to designate Azhar.
Now, China lifted its technical hold after it found no objection to listing proposal by US, UK and France.
Masood Azhar
He is the mastermind behind attack on air base in Pathankot in January, 2016. He also claimed responsibility for 2019 Pilwama terror attack on CRPF personnel.
A "global terrorist" designation will subject Azhar to an assets freeze, travel ban and an arms embargo. It will be implemented by all UN member states.
United Nations Security Council 1267(UNSC) Committee
It was established when UNSC resolution 1267 was adopted unanimously on October 15, 1999. Listing of an individual or terrorist organization, helps in restricting their movement, financial penalties and assets freeze.
It is also known as AlQaida and Taliban Sanctions Committee.
It was initially established to oversee implementation of sanctions measures imposed on Taliban-controlled Afghanistan for its support of Osama bin Laden.
Later modified and strengthened by subsequent resolutions, it now is a consolidated list of people and entities which it has determined are associated with Al Qaeda or Taliban, and laws which must be passed within each member nation to implement sanctions. Since Masood Azhar has been linked to Osama bin Laden he can be sanctioned under it.
It comprises of all 15 members of UNSC and makes its decision secretly by consensus i.e. even if single member opposes there is no consensus. This is why China opposition to India's bid was not allowing UNSC to designate Masood Azhar as an international terrorist.
Month: Current Affairs - May, 2019
Topics: 1267 Committee • Al-Qaeda • China • France • global terrorist • India • Masood Azhar • P-3 • Pakistan • Phulwama attack • Taliban • UK • UN • United Nation Security Counci • UNSC • USA
Latest E-Books