50 nations, including India sign 60-article agreement on China-led AIIB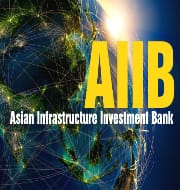 50 founding nations including India have signed 60-article agreement of China-led multilateral Asian Infrastructure Investment Bank (AIIB).
Australia was the first country to sign the agreement and was followed by 49 other members. Indian Ambassador Ashok Kantha signed the agreement on behalf of country.
The 60-article agreement provides the legal framework for
Institution of AIIB.
Each member's capital share and voting share.
Governance structure of AIIB.
Policy-making mechanism of AIIB.
Facts about Asian Infrastructure Investment Bank (AIIB)
Designed to finance infrastructure projects including energy, transport and infrastructure projects in Asia.
AIIB is seen as a rival to the World Bank and Asian Development Bank (ADB) which managed by most prominent countries like US, Japan and European etc.
Headquarters:Beijing. It will be operational by end of 2015.
Authorized capital: It will be of 100 billion US dollars. The initial subscribed capital will be around 50 billion US Dollar and the paid-in ratio will be 20 per cent.
Regional character of the Bank: Its regional members (Asian) will be the holding around 75 percent of shares i.e. they will be majority shareholders.
They have been allocated their capital share on quota basis i.e. based on their economic size.
Voting share: for each member country it is based on the size of their economy and not on authorised capital share to the Bank.
Largest shareholders: China is highest contributor to AIIB with 29.78 billion US dollars i.e. with a 30.34 percent stake in authorized capital.
China will have 26.06 per cent of the voting rights along with veto powers for certain key decisions.
India: second largest shareholder with 8.52 per cent stake and voting share of 7.5 per cent.
Russia: third largest shareholder with 6.66 stake and voting share of 5.92 per cent.
It should be noted that there are 57 founder-member countries AIIB. Seven countries were not able to sign this agreement as it was not ratified by their respective domestic authorities. The seven countries are Denmark, Malaysia, Kuwait, Holland, Philippines and South Africa and Thailand.
Month: Current Affairs - June, 2015
Topics: AIIB • Australia • Banking • Business • China • Current Affairs 2016 • Economy • Germany • India • India-International Relations • Russia
Latest E-Books