Indian Government Launches Agri-Credit and Crop Insurance Initiatives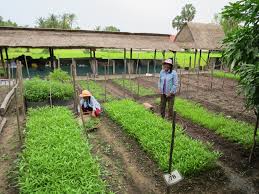 In a significant development, Union Finance Minister Nirmala Sitharaman and Union Agriculture Minister Narendra Singh Tomar have unveiled transformative initiatives aimed at revolutionizing agriculture, enhancing financial inclusion, optimizing data utilization, and improving the livelihoods of farmers across India. The Ministry of Agriculture & Farmers Welfare introduced three key initiatives:
Kisan Rin Portal (KRP): This collaborative effort promises to revolutionize access to credit services under the Kisan Credit Card (KCC), facilitating the availing of subsidized agricultural credit through the Modified Interest Subvention Scheme (MISS).
Ghar-Ghar KCC Abhiyaan: This ambitious campaign seeks to extend the benefits of the Kisan Credit Card Scheme to every farmer in the nation, enhancing universal financial inclusion.
Weather Information Network Data Systems (WINDS) Manual: The WINDS initiative establishes a network of Automatic Weather Stations & Rain Gauges to provide hyper-local weather data, aiding agricultural decision-making.
The government's commitment to innovation and efficient service delivery for agriculture aims to double farmers' income and promote sustainable economic growth.
Why is the Kisan Rin Portal (KRP) considered a revolutionary step for Indian farmers?
The KRP streamlines access to credit services through the Kisan Credit Card (KCC), enabling easier access to subsidized agricultural credit.
What is the primary goal of the Ghar-Ghar KCC Abhiyaan campaign?
The campaign aims to ensure that every farmer in India has access to the benefits of the Kisan Credit Card Scheme, promoting universal financial inclusion.
How does the Weather Information Network Data Systems (WINDS) initiative support agriculture?
WINDS establishes a network of weather stations and rain gauges, providing hyper-local weather data to aid in crop management, resource allocation, and risk mitigation.
What is the significance of the government's commitment to doubling farmers' income?
Doubling farmers' income is a key objective, indicating the government's dedication to improving the economic well-being of the farming community.
How has technology played a role in the success of the Pradhan Mantri Fasal Bima Yojana (PMFBY)?
Technological interventions have led to record enrollment in PMFBY, making it more effective in providing insurance coverage to farmers.
Why is real-time weather information crucial for agriculture, as highlighted in the news?
Real-time weather data helps farmers take timely precautions for their crops, leading to improved yields and risk mitigation.
Month: Current Affairs - September, 2023
Category: India Nation & States Current Affairs