Haryana State Action Plan for Management of Paddy Stubble Burning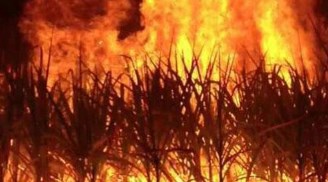 The Commission for Air Quality Management (CAQM) anticipates a notable reduction in paddy stubble burning cases in Haryana this year, thanks to a comprehensive state action plan.
Bio-Decomposer Kits for Farmers
The Haryana government is gearing up to distribute Pusa bio-decomposer kits to farmers free of charge, covering a substantial paddy cultivation area spanning 5 lakh acres. These kits play a crucial role in decomposing crop stubble before the rabi crop is sown, effectively curbing the practice of stubble burning.
Challenges in Paddy Cultivation
Haryana boasts an estimated 14.82 lakh hectares of paddy cultivation, resulting in a significant generation of non-basmati paddy straw, totaling over 7.3 million tonnes.
Holistic Approach to Prevent Stubble Burning
Efforts to prevent stubble burning extend beyond the use of bio-decomposer kits. Farmers are encouraged to clear fields using machinery and utilize straw as fodder. With a substantial arsenal of over 80,000 crop residue management machines in the state, effective utilization at the district level is a priority.
District-Level Action Plans
In addition to the state-level action plan, Haryana will implement district action plans to tackle stubble burning in a more localized manner.
Addressing Hotspots
Haryana experienced minimal farm fires in nine out of its 22 districts in 2022. However, districts such as Kaithal, Fatehabad, and Jind were identified as hotspots, with over 500 farm fire incidents. Other areas of concern include Kurukshetra, Karnal, Yamunanagar, Sirsa, Ambala, and Hisar.
Identifying High-Risk Zones
A total of 147 villages in these districts have been marked as 'red zones' based on 'active fire locations,' indicating six or more instances of active fires.
Financial Incentives to Tackle Stubble Burning
Haryana has introduced financial incentives to combat stubble burning. These incentives encompass Rs 1,000 per acre for paddy crop residue management, Rs 7,000 per acre for diversifying paddy cultivation with alternative crops, a grant of Rs 1,00,000 to 'red zone' panchayats for ensuring zero burning, transportation charges of paddy straw bales to gaushalas at Rs 500 per acre (with an upper limit of Rs 15,000), and fixed procurement rates of Rs 2,500 per tonne for paddy crop residue.
Monitoring and Data
The IARI real-time monitoring system, which relies on satellite data, reveals that Haryana recorded only nine rice residue burning events from September 15 to 22 this year, a significant reduction compared to the 3,661 instances observed in the state until November 30 last year.
Month: Current Affairs - September, 2023
Category: States Current Affairs