Daily UPSC Prelims Current Affairs – July 24-25, 2022 [Mock Test]
1.
Consider the following pairs:
48th G7 Summit – Italy
17th G20 Head of State and Government Summit – Bali
43rd CARICOM Meeting – Surinam
ASEAN 2022 – Cambodia
How many pairs given above are matched correctly?
2.
Chief Information Commissioner is appointed by the President on the recommendation of a committee consisting of which of the following?
Prime Minister
Home Minister
Leader of opposition in Lok Sabha
Chief Justice of India
Select the correct answer using the codes given below:
3.
With respect to the Vice President of India, consider the following statements:
Article 63 – Vice President shall be the ex-officio chairman of Council of States.
Article 65 – Vice President to act as President or to discharge his functions.
Article 66 – Process of the election to the Vice President.
Article 71 – Disputes regarding the election of a Vice President shall be inquired and decided by the Supreme Court of India.
Which of the statements given above are correct?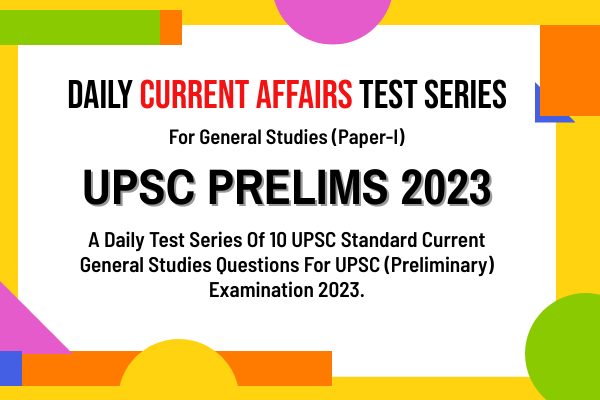 The above questions are part of Daily Current Affairs Test under
UPSC Prelims Test Series - 2023
in GKToday Android Application. This series can be subscribed in the app only.
Download Now
Category: Daily Current Affairs Test for UPSC Prelims Examination 2023
Tags: upsc prelims test series 2023
Latest E-Books