RBS Earth Heroes Awards 2019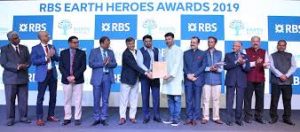 RBS India, the innovation and operations hub of Royal Bank of Scotland (RBS) announced the winners of RBS Earth Heroes Awards (REHA), who have played significant role in combating climate change. The year 2019 is the 9th edition of REHA and the theme for 2019 awards was- 'Climate Change'.
RBS Earth Heroes Awards (REHA)2019 Winners
Bholu Abrar Khan of Bharatpur (Rajasthan): Green Warrior
Dimbeshwar Das of Assam: Green Warrior
Ela Foundation (Pune): Earth Guardian
Aishwarya Maheshwari (Uttar Pradesh): Save the Species
Sathish (Tamil Nadu): Save the Species
Jalal Ud Din Baba (Jammu & Kashmir): Inspire
Pramila Bisoyi (Odisha): Lifetime Achievement
About RBS Earth Heroes Awards (REHA)
The awards were instituted by Royal Bank of Scotland (RBS) in association with World Association of Zoos and Aquariums (WAZA) in 2011.
Objective: REHA are an attempt to recognise the grit and determination of individuals and institutions who work exceptionally hard as well as went beyond their call of duty with an aim to preserve and protect the critical eco-systems and environment.
Significance: Under the UN Sustainable Development Goals (SDGs), there is a critical and urgent need for climate change mitigation,thus by recognising and rewarding those who are working towards this goal of environment conservation, RBS India is creating a value cycle that will urge more citizens to take up greater responsibility to mitigate climate change and conserve earth.
Categories: The award categories include:-
RBS Earth Hero Award (Felicitation)-Individual
RBS Earth Guardian Award (Rs.1,50,000)- Institution
RBS Save The Species Award (Rs. 1,50,000)- 2 Individuals
RBS Inspire Award (Rs, 1,50,000)- Individual or Institutional
RBS Green Warrior Award (Rs. 1,50,000 each)- 2 individuals
Category: Awards, Persons & Places in News
Topics: Climate change • Earth Heroes Awards • Odisha • RBS India • REHA • Royal Bank of Scotland • World Association of Zoos and Aquariums
Latest E-Books