India, Japan and US navies kick off 2016 Malabar Exercise near South China Sea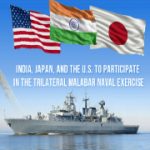 India, Japan and United States (US) navies have kicked off 2016 MALABAR trilateral naval Exercise near South China Sea.
This year it is the 20th edition of the naval exercise in which over 100 aircraft and 22 naval ships including a nuclear submarine are participating.
Key facts
The 20th edition of the naval exercise will be conducted for 8 days. It includes harbour phase exercises at Sasebo, Japan and the sea phase exercises in the Pacific Ocean.
Aim of exercise: Increase interoperability amongst the three navies and develop common understanding of procedures for Maritime Security Operations.
Scope of 2016 MALABAR: It includes professional interactions in harbour and sea phases, including complex sub-surface, surface and air operations.
Participation: The joint fleet of 3 navies will include aircraft carriers, warships and fast attack submarines.
India's Participation: Four ships of Indian Navy from the Eastern Fleet are participating in the naval exercise in consonance with country's 'Act East Policy'. They are
Missile stealth frigates INS Sahyadri and INS Satpura, modern fleet tanker and support ship INS Shakti, missile corvette INS Kirch
These ships have embarked one Sea King 42B ASW helicopter and 2 Chetak utility helicopters.
US Participation: US Navy will be represented by ships from CTF 70 of the USN 7th fleet based at Yokosuka, Japan.
The CTF includes aircraft carrier USS John C Stennis (CVN 74), Arleigh Burke class destroyers USS Stockdale and USS Chung Hoon and Ticonderoga class Cruiser USS Mobile Bay. All these ships will be embarked helicopters.
In addition, 1 nuclear powered submarine, Long Range Maritime Patrol aircraft and carrier wing aircraft are also participating in the exercise.
Japan's Participation: Japanese navy will be represented by a helicopter carrier JS Hyuga with SH 60 K integral helicopters.
Long Range Maritime Patrol aircraft are also participating besides other advanced warships for specific parts of the exercise.
Background
Since 1992, Indian and US navies have regularly conducted the annual bilateral exercise. Since 2007, Malabar has been held alternatively off India and in the Western Pacific. In 2015, it was conducted off Chennai coast in Bay of Bengal and included participation of Japan making it trilateral naval exercise.
Comment
2016 MALABAR naval exercise is seen as significant step in strengthening mutual confidence and inter-operability as well as sharing of best practices between the Indian, Japanese and US Navies.
The exercise will support maritime security in the Indo-Pacific region and benefit the global maritime community.
In recent times, the exercise assumes significance as it is being conducted close to South China Sea when Chinese assertiveness in this region is a raging issue.
The exercise also aims to achieve deeper military ties and greater interoperability amid rising tensions in the region.
Month: Current Affairs - June, 2016
Topics: Defence • India-International Relations • Indian Navy • Japan • malabar exercise • US
Latest E-Books