INS Vikrant: First Indigenously-built Aircraft Carrier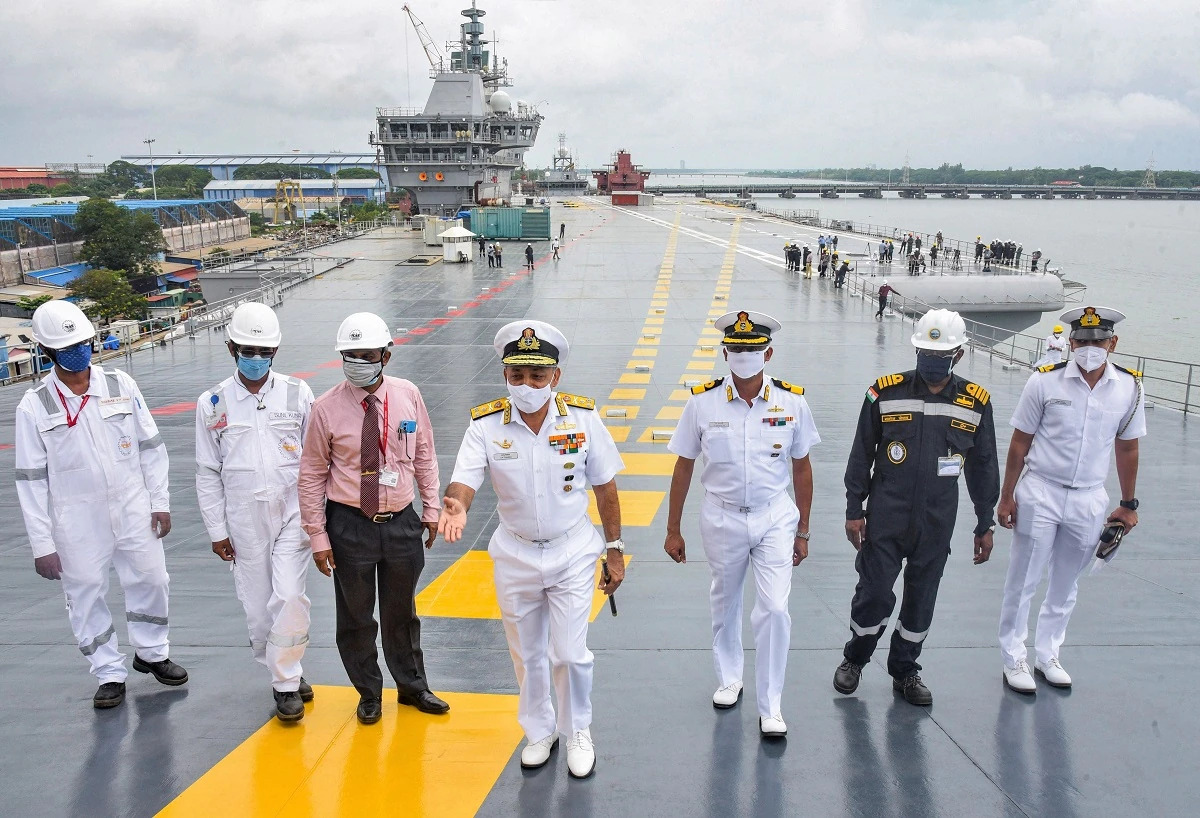 Indigenous aircraft carrier 'Vikrant' is set to commission on September 2, 2022 in the presence of Prime Minister Narendra Modi. The aircraft landing trials on INS Vikrant will begin in November and will be completed by mid-2023. The carrier should be fully operational by the end of 2023.
Key Facts about INS Vikrant
It is also known as Indigenous Aircraft Carrier One (IAC-1). It is being constructed by Cochin Shipyard, Kerala for the Indian Navy. It has an overall indigenous content of 76%.
This warship is 262 meters long, 62 meters wide and its height is 59 meters. Its construction started in 2009.
INS Vikrant has over 2,200 coaches, designed for a crew of about 1,600 people, including special cabins to accommodate women officers.
Vikrant has a cruising speed of 18 knots, a top speed of about 28 knots and an endurance of about 7,500 knots.
It works on Short Take Off But Arrested Recovery Mechanism (STOBAR). This mechanism is very much similar to mechanism in the present carrier INS Vikramaditya. INS Vikrant is powered by 4 General Electric gas turbines.
The motto of INS Vikrant is "Jayema Sam Yudhi Sprdhah". It was taken from Rig Veda. It means " I defeat those who fight against me".
The project cost of INS Vikrant was escalated to 3.5 billion USD in 2014. In 2019 an additional 420 million USD was authorised for a phase 3 of the project.
The project represents Indian unity as the aircraft carrier has been manufactured in 18 states and union territories, including places such as Kolkata, Jalandhar, Kota, Pune, Delhi, Ambala, Hyderabad and Indore.
With the construction of 'Vikrant', India joins a select group of countries such as US, UK, Russia, China and France that have the unparalleled capability to design and manufacture aircraft carriers indigenously.
What is STOBAR Mechanism ?
STOBAR combines elements of vertical landing and short take off. It is a system used to launch and recover an aircraft from an aircraft carrier. These systems are simpler to build as compared to that of CATOBAR. Also, it is less expensive. The major limitation of STOBAR is that it works only with fighter aircrafts that have high thrust to weight ratio. Some of fighter jets with high thrust to weight ratio are MiG-29K and Su-33.
Month: Current Affairs - August, 2022
Category: Defence Current Affairs
Topics: Aircraft carrier • Cochin Shipyard Limited (CSL). • Defence Current • First indigenous aircraft carrier • IAC-1 • Indigenous Aircraft • Indigenous Aircraft Carrier One • INS Vikrant • STOBAR • Vikrant
Latest E-Books