Simlipal Forest Fire- Highlights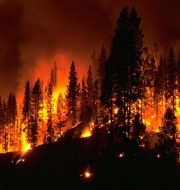 The Simlipal Tiger Reserves in Odisha underwent the massive fires recently. The wildfires broke in the biosphere reserve situated in the Mayurbhanj district of Odisha.
Similipal Tiger Reserve
It is a tiger reserve situated in the Mayurbhanj district of Odisha in the northern part. The reserve derives its name from Simul tree (silk cotton tree).it comprises of an area of 5,569 sq km. The reserve was declared a biosphere reserve in June 1994 by the Government of India. The reserve is home to 94 species of orchids and around 3,000 species of plants. The species of fauna include 29 species of reptiles, 12 species of amphibians, 42 species of mammals and 264 species of birds. All these species significantly highlight the biodiversity richness of the reserve. The dominant tree of the reserve is Sal tree.
Concerns regarding reserve
The Simlipal forest reserve area witnesses the forest fires so often in the dry weather conditions. As per the Regional Conservator of Forest, there are 399 identified fire points along the fringe areas bordering the forest. All these points remain vulnerable to the wildfire as and when summers arrives. The wild fire is a recurrent annual disaster. However, with the government's efforts, the calamity has been bought under control.
Reasons of forest fire
The forest officials and activists highlight that, there are several man-made factors as well the natural causes that led to the wildfires. The natural causes include lighting, even soaring temperatures, dry conditions, lesser rainfall etc. further, during the summer season, the leaves get dry so much so that even a spark could lead to the raging fire. In the forest areas, the poachers and hunters set fire in the small areas to divert the wild animals which often lead to the widespread wildfires.
Month: Current Affairs - March, 2021