Parliamentary committee report highlights alarming rise in forest fires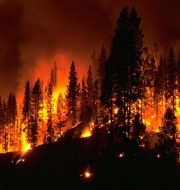 According to report submitted by Parliamentary Standing Committee on Science and Technology, there is alarming rise in forest fires across India.
It says that the number of forest fires have touched 24,817 in 2016 from 15,937 fires in 2015. It shows alarming rise 55% in the past year.
The report primarily focuses on the prevention and containing of fires in the Himalayan forests spread across Himachal Pradesh, Uttarakhand and Jammu and Kashmir.
Findings of Committee
There is increase in forest fires is seen even though 2015 was considered a drought year. But there is decline in frequency of forest fires by around 16%.
The three central States Chhattisgarh, Madhya Pradesh and Odisha contribute a third of the forest fires.
Madhya Pradesh has seen a nearly ten-fold increase in forest fires, from just 294 in 2015 to more than 2,600 in 2016.
In Himachal and Uttarakhand, over 17,502 acres have been ravaged in 2016 due to forest fires, a rise of over 171%.
Large number of posts of front line forest staff were lying vacant, while fire-fighting equipment is rudimentary in many cases.
Recommendations
National policy on managing forest fires must be framed.
Replacing pine reserve forests areas with "broad-leaf" plants.
Procurement of sweeping machines to clear roadsides of Chir pine needles.
Advocating large-scale incentives and programmes (including under MNREGA) to collect pines for use as fuel, and other incineration.
Background
The committee was formed after a series of devastating forest fires earlier in the year 2016 including the prolonged one that had charred 4,000 hectares of forest land across 13 districts of Uttarakhand in May 2016. The committee was headed by Rajya Sabha MP Renuka Choudhary.
Tags: Chhattisgarh • Current Affairs 2016 • Disaster Managament • Environment • Forest Fires
Month: Current Affairs - December, 2016