M S Swaminathan Passes Away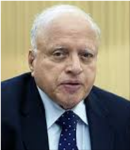 M S Swaminathan, the renowned agricultural scientist often referred to as the "Pioneer of the Green Revolution in India," passed away at the age of 98. He left behind a legacy of agricultural innovation and food security.
A Distinguished Career
Throughout his illustrious career, Swaminathan held various key roles in India's agricultural landscape. From serving as the Director of the Indian Agricultural Research Institute to being the Director General of the ICAR and Secretary to the Government of India in the Department of Agricultural Research and Education, he left an indelible mark in every position. His contributions extended internationally as well, serving as the Director General of the International Rice Research Institute in the Philippines.
The National Commission on Farmers
In 2004, Swaminathan was appointed as the chair of the National Commission on Farmers, a critical role during a period of widespread farmer distress and alarming suicide rates. The commission presented its report in 2006, making groundbreaking recommendations, including the proposal that the Minimum Selling Price (MSP) should be at least 50 percent more than the weighted average cost of production.
The Legacy Lives On
Despite his passing, M.S. Swaminathan's legacy lives on through the MS Swaminathan Research Foundation (MSSRF), which he established in Taramani, Chennai, after receiving the first World Food Prize in 1987. His numerous accolades, including the Padma Shri, Padma Bhushan, Padma Vibhushan, and international awards, serve as enduring testaments to his remarkable contributions to agriculture and science.
Month: Current Affairs - September, 2023
Category: Persons in News