Jan Aushadhi Train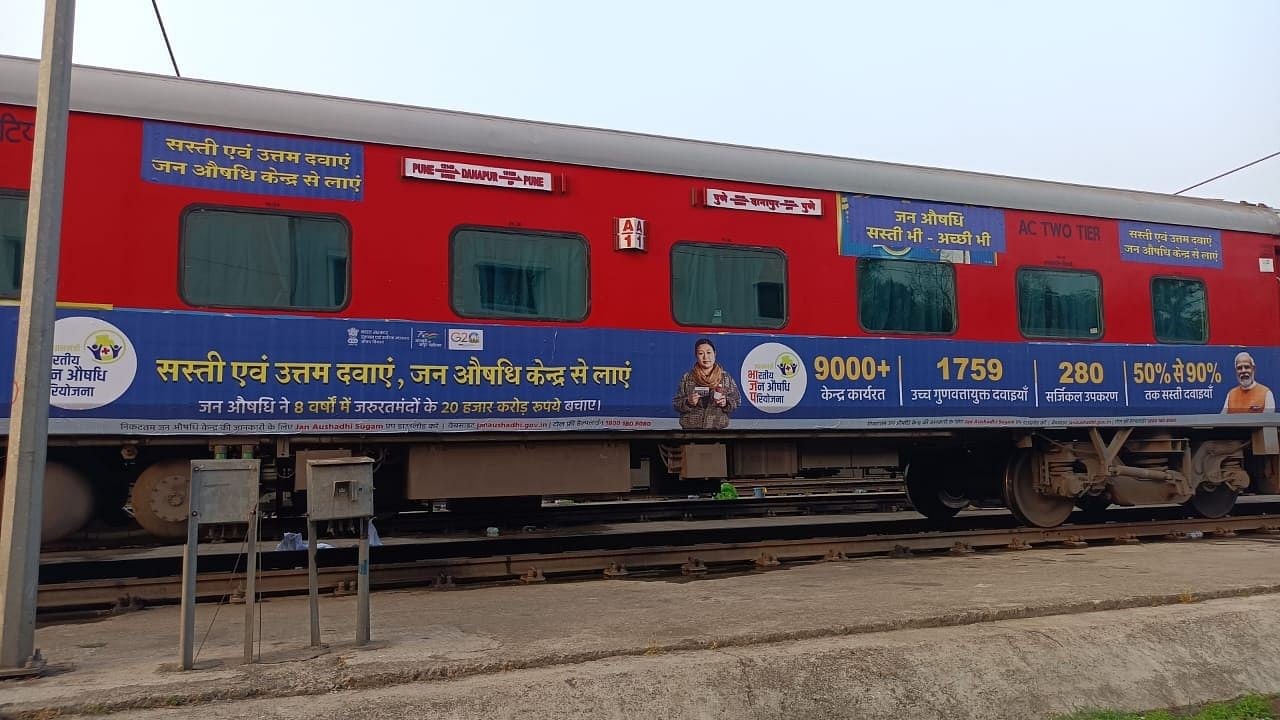 The Jan Aushadhi Train was flagged off recently in New Delhi by union ministers Dr Mansukh Mandaviya and Shri Ashwini Vaishnaw. It was launched as part of the week-long celebrations commemorating the Jan Aushadhi scheme. This is the second such train to be flagged off to create awareness about the scheme.
What is the purpose of the Jan Aushadhi Train?
The train, Chhattisgarh Samparkranti Express, seeks to raise awareness about Jan Aushadhi Generic medicines that are available through more than 9,000 Kendras spread across India. It is wrapped with the branding of the Jan Aushadhi scheme. It will travel to more than 4 states, including Madhya Pradesh and Chhattisgarh, over 2 months. It will cover 1,278 km.
Jan Aushadhi Day
It is commemorated on March 7 every year. The main purpose of the day is to spread awareness of the Pradhan Mantri Bhartiya Jan Aushadhi Pariyojana. The scheme focuses on increasing the usage of generic medicines.
Why should we promote generic medicines?
Generic medicines are less expensive and therefore are highly affordable to BPL families. Unfortunately, trust in generic medicines is very less. Doctors are hesitant to recommend generic medicines. This is because; medical experts always use techniques and products that have proven history.
Why are doctors hesitating to prescribe generic medicines?
Say company A invents a new medicine XYZ. A will now get patent rights to manufacture XYZ. No company is allowed to decode the formula of A for a certain period of time. Say 5 or 10 years. Now doctors start prescribing XYZ. XYZ will bring side effects as every allopathy medicine has some side effects. To nullify the side effects, doctors start using supplementary medicines. By trial and error, they prepare a set of medicines to nullify the side effects caused by XYZ. This takes 2-3 years. Now, XYZ becomes well-established. Whenever they prescribe XYZ they add the supplement medicines to it beforehand.
The patented period of 5-10 years is over. Other companies decode XYZ and launch their own version. Say another company B launches PQR which is similar to XYZ. Now to prescribe PQR, the doctors will have to go through the same trial and error again.
Tags: generic medicines • Jan Aushadhi Diwas
Month: Current Affairs - March, 2023
Category: Government Schemes Current Affairs