INS Sujata's Visit to Mozambique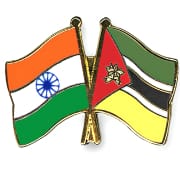 INS Sujata, a Sukanya class patrol vessel of the Indian Navy, based at the Southern Naval Command in Kochi, recently visited Port Maputo, Mozambique as a part of its Overseas Deployment from 19 to 21 March 2023. The purpose of the visit is to improve the bilateral relations and mutual cooperation between the two navies.
High-Level Meetings and Visits
During its visit, the Commanding Officer of INS Sujata called on several military and civilian dignitaries, including Rear Admiral Eugenio Dias Da Silva Muatuca, the Commander of Mozambican Navy, and Mr. Eneas Da Conceicao Comiche, Mayor of Maputo. The High Commissioner of India and other officials were also present during these meetings.
Cross-Deck Training and Other Activities
As part of the visit, approximately 40 personnel of the Mozambican Navy visited INS Sujata to attend the Cross deck training. This training module covered walkarounds of training facilities, briefing on diving operations, training on VBSS and light weapons, visual communication, and maintenance of machinery and hygiene onboard. Furthermore, various other activities, including a combined morning yoga session and soccer match, were organized between the personnel of both Navies. A reception was also hosted onboard INS Sujata, which was attended by several Indian and Mozambican dignitaries and diplomats.
Enhancing Mutual Cooperation and Bilateral Ties
The visit of INS Sujata to Port Maputo, Mozambique, further enhanced the mutual cooperation and bilateral ties between the two Navies. Such visits not only provide opportunities for the exchange of knowledge, skills, and expertise but also help in strengthening diplomatic ties and building a strong relationship between the two countries. The visit by INS Sujata highlights India's commitment to maintaining peace and security in the region while also fostering friendship and cooperation with other countries.
Tags: India-Mozambique • Indian Navy • Indian Navy Ships • Mozambique
Month: Current Affairs - March, 2023
Category: Defence Current Affairs