India, Japan ink ten agreements including civil nuclear deal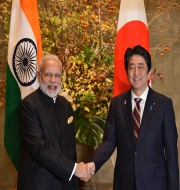 India and Japan signed have ten agreements to boost the bilateral cooperation between the two nations.
The agreements were signed in presence of Prime Minister Narendra Modi and his Japanese counterpart Shinzo Abe in Tokyo, Japan.
Agreements signed are
Agreement for Cooperation in Peaceful uses of Nuclear Energy: It provides for bilateral cooperation in the field of Nuclear Energy. It will help to strengthen of energy security of India, by facilitating development of nuclear power projects in India. It will also open up the door for collaboration between Indian and Japanese industries in our Civil Nuclear programme.
Memorandum of Cooperation (MOC) on the Manufacturing Skill Transfer Promotion Program: It envisages training 30,000 Indian youth in the Japanese styled manufacturing in the next 10 years. It will be achieved through programmes of Japan-India Institute for Manufacturing (JIM) and the Japanese Endowed Courses (JEC) in select Engineering colleges. It will contribute to 'Make in India' and 'Skill India'.
MoU on Cooperation in the Field of Outer Space: It was signed between ISRO and JAXA. It provides for cooperation in planetary exploration, satellite navigation and space industry promotion, joint use of ground systems, joint missions and studies for mutual support and personnel exchange.
MoU on Mutual Collaboration in Marine and Earth Science and Technology: It was signed between Ministry of Earth Sciences (MoES) and Japan Agency for Marine-Earth Science and Technology (JAMSTEC). For more information click here
MoC in the Field of Agriculture and Food Related Industry: It seeks to deepen the bilateral cooperation in the fields of agriculture and food industries. It includes industries related to food value chain networking and protecting Geographical Indication (GI) of agriculture products.
MoU for Transport and Urban Development: It was signed between National Investment and Infrastructure Fund (NIIF) Limited and Japan Overseas Infrastructure Investment Corporation (JICA). It will enable cooperation for promoting investment in infrastructure projects in transportation and railways, port terminals, toll roads, logistics, airport terminals, urban development and any supporting industries for these sectors.
MoU in the Field of Textiles: It aims to improve quality of Indian Textiles for conformity assessment for Japanese market.
MOC in the Field of Cultural Exchange: It seeks to promote bilateral cooperation in the field of art & culture between both countries. It includes exchange of exhibitions & personnel in performing and visual arts, exchange of exhibitions and experts from museums, cooperation in preserving the cultural heritage and to promote people-to-people exchanges.
MoC on Cooperation in Sports: It seeks to provide a framework for bilateral cooperation in the field of Sports ahead of the forthcoming 2020 Tokyo Olympics and Paralympics.
MOU between Gujarat and Hyogo Prefectural Government: It seeks to promote mutual cooperation between Hyogo and Gujarat in the fields of business, academics, cultural cooperation, disaster management and environmental protection.
Month: Current Affairs - November, 2016