India designated as major US defence partner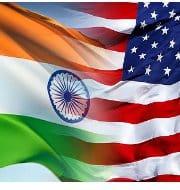 India has been designated as a major defence partner of the United States. It puts India on a par with the closest allies and partners of the US.
The agreement in this regard was reached between Union Defence Minister Manohar Parrikar and US Secretary of Defence Ashton Carter in New Delhi. It was one of the last visits from a cabinet member of the outgoing Obama administration.
So far, US has bestowed this status upon the North Atlantic Treaty Organisation (NATO) countries and the US treaty allies such as Japan, South Korea, Australia, New Zealand and Philippines.
National Defence Authorization Act (NDAA), 2017
India's Major Defence Partner status has been made a part of the India Amendment in the National Defence Authorization Act (NDAA), 2017 of US.
India will get formal official stamp on this status after this bill is passed by two chambers of the Congress House of Representatives and Senate before it receives assent of US President Barack Obama.
Under the NDAA 2017, India will be included in conventional arms transfer policy, defence services, or related technology, inform the review of requests to export defence articles under the Arms Export Control Act.
Significance
The designation of this status is unique to India, a non-NATO ally of US. It institutionalizes the progress made by US to facilitate defence trade and technology sharing with India to a level at par with its closest allies and partners. It will facilitate US to transfer of advanced defence technology to India. It will also strengthen institutional effectiveness of US-India Defence Trade and Technology Initiative (DTII) and the durability of the India Rapid Reaction Cell in Pentagon.
Background
India was designated Major Defence Partner status during Prime Minister Narendra Modi's visit to US in June, 2016.  Since 2014 some major agreements were signed between India and US. It included Defence Framework Agreement in 2015, which laid a blueprint for collaboration between the defence establishments and the logistics support agreement Logistics Exchange Memorandum of Agreement (LEMOA).
Month: Current Affairs - December, 2016