National Bamboo Mission
The National Bamboo Mission was launched in 2006-07 as a Centrally Sponsored Scheme to promote the growth of bamboo sector. The programmes address four major areas of bamboo development as follows:
Research and Development
Plantation Development
Handicrafts Development
Marketing
Key Elements of the National Bamboo Mission

Research and Development for sustainable development and new Bamboo Agri-forestry technique for technology generation
Establishment of new Nurseries to raise bamboo seedlings
Raising high yielding bamboo plantations on commercial basis in Forest as well as Non-Forest areas
Rejuvenation of senile bamboo plantations
Pest and Disease Management of bamboo.
Handicrafts, bamboo marketing and exports
Capacity building and Human Resource Development of farmers, field functionaries and others
New Marketing Strategy for Bamboo and establishment of Bamboo Markets, Bamboo bazaar and retail outlets
Meticulous monitoring, evaluation and reporting, Database generation, compilation and analysis
Structure

The structure of National Bamboo Mission is very much similar to National Horticulture Mission. On apex level, it has a National Apex Committee (NAC) under the Chairmanship of Union Minister of Agriculture. The members of this committee are various ministers. Then, there is a National Steering Committee (NSC) headed by the Secretary, Deptt. of Agriculture & Cooperation, to oversee the activities of the Mission and approve the Action Plans. On national level, there is also a National Bamboo Cell, which has bamboo specialists as its members and a mission director, an official from the agriculture ministry. On state level, the state government establishes a State Bamboo Steering Committee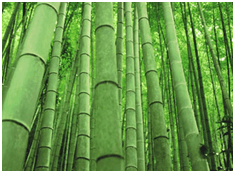 (SBSC) under Secretary Agriculture/ Horticulture / Environment and Forests.
Bamboo Development Agencies

The Bamboo Mission covers both the forest as well as non-forest areas. The scheme documents make provisions that in the forest areas, the bamboo development will be function of the Forest Development Agencies (FDA) and the Joint Forest Management Committees (JFMCs). However, in case of Non-Forest Areas, the Bamboo Development Agencies (BDAs) will be the nodal agency to whom funds will be released by the Ministry of Agriculture for onward disbursement to the beneficiaries. BDA will be set up in each State with the Director, Agriculture/Horticulture/Environment & Forests or any other officer considered appropriate by the State Government as Mission Director.
Bamboo Technical Support Group (BTSG)

The scheme documents say that a Technical Support Group will be established at the Central level to support National Bamboo Cell. A minimum of three experts having experience in Bamboo plantation, handicrafts and marketing will be engaged. The BTSG will be funded by the Mission and will be under the direct control of NBC.
How Funding takes place?

The assistance is routed to the beneficiaries via the state governments. States are required to prepare a Bamboo Development Mission Document (BDMD) and submit it to the Department of Agriculture. The funding is for 3 separate missions viz. Research & Development, Plantation Development and Handicraft, Marketing & Export.
Interventions

The money obtained thus is spent on the following important interventions:
Establishment of Nurseries
Tissue Culture Laboratories
Raising new plantations
Improving the existing stocks
Micro-irrigation in nonforest areas
Creation of Bamboo Bazaars and ratail outlets
Other interventions
Note : Bamboo versus Rattan

Rattan and bamboo belong to two distant botanical families, have different properties, and are propagated and grown in dissimilar ways. Rattan is a palm, normally a climber and solid, while bamboo is a grass, and typically a hollow cylinder. Bamboo grows easily, and very quickly. Cane is a climber, requires a secluded environment, and has long gestation periods. All of the bamboo plant, from root to culm and leaves is utilised in diverse ways. Essentially only the stem of the rattan plant is used. This information was base of one of the questions in other mock tests and from this scheme; I believe it is the only good point to note.