Union Government unveils Defence Procurement Procedure 2016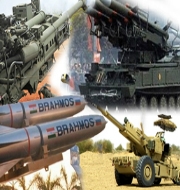 The Union Government has unveiled Defence Procurement Procedure 2016 (DPP 2016).
It was unveiled by Union Defence Minister Manohar Parrikar on the sidelines of the Defexpo-2016 held in Goa.
The DPP 2016 will replace the Defence Procurement Procedure 2013 (DPP 2013) and shall come into force on 1 April 2016.
Highlights of DPP 2016
Aim: To ensure timely procurement of defence (military) equipment, systems, and platforms required by the armed forces through optimum utilization of allocated budgetary resources.
Scope: It will cover all capital acquisitions undertaken by the Union Ministry of Defence, Defence Services and Indian Coast Guard (ICG) both from indigenous sources and import.
Capital Acquisitions Schemes: They are broadly classified into 3 categories viz.
Buy scheme: Outright purchase of equipment and procurements under this scheme are further categorized as Buy (Indian- IDDM), Buy (Indian), and Buy (Global).
IDDM stands for Indigenously Designed Developed and Manufactured.
Buy and Make scheme: The procurements are categorized as Buy and Make and Buy and Make (Indian).
Make category Scheme: It seeks developing long-term indigenous defence capabilities and procurements.
It empowers Defence Acquisition Council (DAC) to take a fast-track route in order to acquire weapons, which were limited to the armed forces till now.
Procurement of defence equipment: Arranged in decreasing order of priority are categorized as (i) Buy (India-IDDM). (ii) Buy (Indian). (iii) Buy and Make (Indian). (iv) Buy and Make. (v) Buy (Global).
Buy (India-IDDM) seeks to boost indigenous production and procurements under it should 40% sourced locally in terms of the content.
It will promote domestic manufacturing, including government funding R&D and recognition of the Micro, Small and Medium Enterprises (MSMEs) in technology development.
Background
The DPP 2016 has been framed based on the recommendations of the Dhirendra Singh Committee that was appointed in May 2015 to review the DPP 2013.
The Committee was tasked to evolve a policy framework to facilitate Make in India in defence manufacturing in order align the policy evolved with DPP-2013.
It was also tasked to suggest requisite amendments in DPP-2013 in order to remove bottlenecks in the procurement process and also rationalize various aspects of defence procurement.
Month: Current Affairs - March, 2016
Topics: Business • Current Affairs 2016 • Defence • Defence Procurement Procedure 2016 • Economy • Government Policy • Make in India • manufacturing
Latest E-Books