India imposed Anti-dumping duty on potassium carbonate imports from Taiwan, South Korea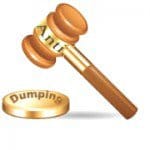 India has imposed definitive anti-dumping duty for period of five years on Potassium Carbonate imports from Taiwan and South Korea.
The duty was imposed by Union Finance Ministry based on the recommendations of the Directorate General of Anti-Dumping Duty (DGAD) that works under the aegis of Union Commerce Ministry.
This move was taken following the findings of Central Board of Excise and Customs (CBEC) which concluded that Potassium Carbonate imports from Taiwan are entering in the Indian market at dumped prices.
The revenue department has imposed anti-dumping duty of 153 US dollar per tonne on Potassium Carbonate imports from Taiwan and 9.45 US dollar per tonne in case of imports from UNID Co Ltd, and 123.86 US dollar per tonne from all other exports from South Korea.
Potassium Carbonate
It is a white inorganic compound available in powder and granules form applicable in the manufacture of GLS Lamps, TV picture tubes, Ophthalmic glasses.
It has also important application in fertilizer industry, drugs and pharmaceuticals and Dyes and rubber industry.
What is Anti-Dumping Duty?
It is a trade duty imposed by any government on imported products which have prices less than their normal values in their domestic market.
Usually countries initiate anti-dumping probes to check if domestic industry has been hurt because of a surge in below-cost imports.
Anti-Dumping Duty is imposed under the multilateral WTO regime and varies from product to product and from country to country.
In India, anti-dumping duty is recommended by the Union Ministry of Commerce (i.e. Directorate General of Anti-Dumping Duty-DGAD), while the Union Finance Ministry imposes it.
Month: Current Affairs - August, 2015
Topics: Anti-dumping duty • Business • Economy • International Trade • South Korea • Taiwan
Latest E-Books