India imposed Anti-dumping duty on Linen imports from China and Hong Kong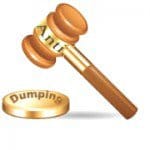 On 17 August the Finance Ministry has imposed definitive anti-dumping duty on 'flax' or 'linen' fabric imports from China and Hong Kong for period of five years.
Accordingly the revenue department has imposed anti-dumping duty of 0.75 US dollars per metre on 'flax' fabric imported from China and 0.65 UD dollars per meter fabric imported from Hong Kong.
The duty was recommended by Directorate General of Anti-Dumping Duty (DGAD) followed by petition filed by Jaya Shree Textiles, a unit of Aditya Birla Nuvo Ltd.
It should be noted here that the anti-dumping duty is applicable only on those flax fabrics with flax content of over 50 per cent.
About Linen:
Linen yarn is spun from the long fibers found just behind the bark in the multi-layer stem of the flax plant (Linum usitatissimum). 'Flax' is synonym for 'linen' which is primly used in the production of linen thread and fabric, which is a popular choice for warm-weather clothing.
Flax plants are cultivated for linen fiber in a number of countries including Poland, Belgium, Austria, France, Denmark, Switzerland, Germany, the Belgium's flax plants yarns finest quality of linen.
Note: In year 2015 India had imposed anti-dumping duty on some of following products exported by China – Vitamin-C, Steel imports, CFL lamp, fibre glass, Vitamin E, Electronic Calculators, USB Flash Drives, Measuring tapes, Cast Aluminium Alloy Wheels or Alloy Road Wheels and many other products.
Month: Current Affairs - August, 2015
Topics: Anti-dumping duty • Business • China • Hong Kong • imports • International Trade • Linen
Latest E-Books