Gafa Tax: France to levy 3% tax on Internet giants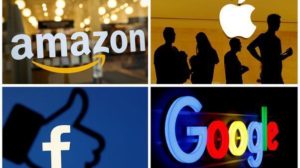 The French parliament approved a law dubbed as Gafa Tax (an acronym for Google, Apple, Facebook and Amazon), the legislation will impose a 3% levy on sales generated in the country by non-tax paying online giants.
Key Highlights
Levying this 3% tax on total annual revenues of largest technology firms providing services to French consumers would make France 1st major economy to impose a tax on internet heavyweights.
Background: At present, digital companies pay nearly no tax in countries where they have large sales like France. The Bill was adopted by National Assembly last week has got its final approval from Senate.
Objective: To stop multinationals from avoiding taxes by setting up headquarters in low-tax European Union (EU) countries. At present, companies pay nearly no tax in countries where they have large sales such as France.
Applicable on: The tax would be applied only to companies with global revenues in excess of €500 million and revenue of at least €25 million from UK activities.
Implications:
As per France's Finance Ministry estimations the Gafa tax will raise about €500 million ($566 million) in 2019 but that should increase "quickly."
The tech industry has warned that it could lead to higher costs for consumers.
It could also affect US multinational companies such as Airbnb and Uber as well as those from China and Europe.
Way ahead: Although France failed to persuade European Union (EU) partners to impose a Europe-wide tax on online giants, but it is pushing for an international deal with member countries of Organization for Economic Cooperation and Development (OECD).
Related Posts
Month: Current Affairs - July, 2019
Topics: Amazon • Apple • Facebook • France • French Parliament • Gafa Tax • Tax on Internet giants
Latest E-Books