BCCI approves use of DRS in India-England Test series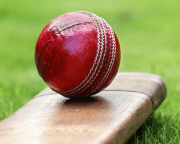 The Board of Control for Cricket in India (BCCI) has given its consent for using the Decision Review System (DRS) in the forthcoming five-Test series against England in November 2016.
BCCI will use the DRS on a trial basis to evaluate the improvements and changes made to the system over a period of time.
Earlier, BCCI as well as many members of the current Indian cricket team including Captain Mahendra Singh Dhoni had objected used of DRS as is not 100% accurate.
What changes have been made?
The technology approved by Massachusetts Institute of Technology (MIT). It includes introduction of ultramotion cameras with better frame rates for accurate ball tracking and Ultra edge, a sound based technology for determining the frame of impact and minimising manual intervention. A data retrieval system also has been included as a further safeguard.
What is Decision Review System (DRS)?
DRS is technology-based system used in sport of cricket for the sole purpose of reviewing controversial decisions made by on-field umpires as to whether or not a batsman had been dismissed. The system was first tested in an India v Sri Lanka match in 2008.
It was officially launched by the International Cricket Council (ICC) in 2009 during the first Test match between New Zealand and Pakistan.
Initially, ICC had made the DRS mandatory in all international matches, but later made its use optional, so that the system would only be used if both teams agree.
How does the Decision Review System (DRS) work?
The DRS comprises a combination of several off-field technologies. Using these off-field technologies, the third umpire informs the on-field umpire whether to overturn or uphold their original decision.
The process of checking a DRS it starts with (i) Checking of No-ball (ii) Inside Edge (iii) Pitch of Ball (iv) Location of Ball while hitting the pads (v) Ball hitting the stumps
First two things are checked manually by 3rd Umpire.
The rule to give out you require this three things (i) Ball should pitch In-Line of stumps or Outside off (ii) Impact of ball while hitting the pads should be In-Line of stumps (iii) Ball should be hitting stumps.
What are off-field technologies of Decision Review System?
Off-field technologies of DRS includes (i) footage from TV cameras placed around the ground; (ii) Hot Spot, an infrared camera system that highlights parts of the bat and body that have been hit by the ball; (iii) Hawkeye, a ball-tracking system usually used to check leg before wicket decisions; and (iv) Realtime Snickometre, a waveform of the sound captured by a stump microphone.
Month: Current Affairs - October, 2016
Topics: BCCI • Cricket • Decision Review System • Science and Technology • Sports
Latest E-Books