Amnesty International: Global review of the death penalty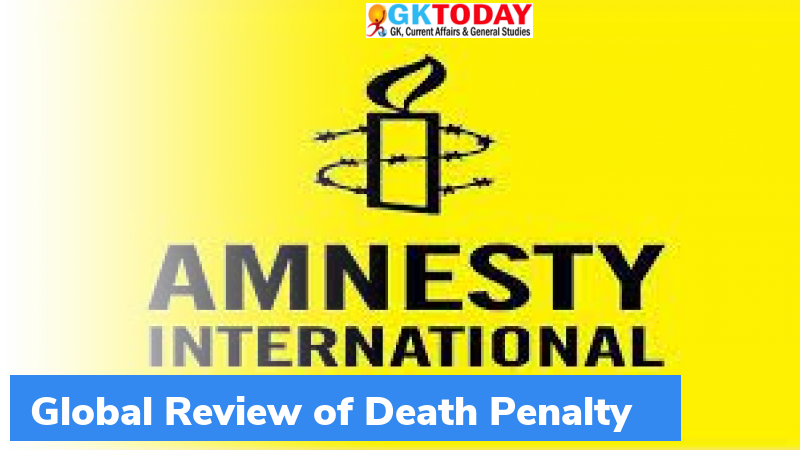 The Amnesty International recently released the global Review of Death Penalty.
Key Findings of the report
Around 483 executions were recorded in eighteen countries according to the report published by Amnesty International.
In 2019, the number of executions recorded were 657.
The number of executions have grown by 26% in 2020 as compared to 2019.
The maximum number of executions happened in China, Iran, Egypt, Iraq and Saudi Arabia in that order.
Around sixteen women have been executed among the 483. They were from Egypt, Saudi Arabia, Iran and Oman.
The countries such as India, Qatar, Oman and Taiwan have resumed executions.
The executions in Iraq have halved from hundred in 2019 to 45 in 2020.
The executions in Saudi Arabia have decreased by 85%.
The countries used beheading, hanging, electrocution, shooting and lethal injection as methods of execution.
Iran executed three people for crimes that were committed by them when they were below 18 years old.
China, Iran and Saudi Arabia executed at least 30 people for crimes related to drugs.
The Asia-Pacific countries that carried out executions in 2020 were India, China, Bangladesh, North Korea, Vietnam and Taiwan. Pakistan, Singapore and Japan did not report any executions.
Executions in China
China was the leading executioner in the world. However, the exact number of executions being carried out in China is unknown. The Chinese Government holds the data of executions as classified secret and thus the exact number is unknown.
Abolition of Execution
Chad has abolished death penalty for all crimes.
Colorado has become the twenty second state in the United States to abolish death penalty.
Month: Current Affairs - April, 2021
Category: Reports & Indexes Current Affairs
Topics: Amnesty international • beheading • Death Penalty • elecrocution • Shooting
Latest E-Books