All-women crew of Navika Sagar Parikrama expedition reaches Fremantle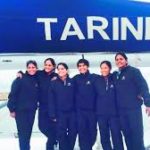 INSV Tarini carrying all-women crew members of Navika Sagar Parikrama, India's first ever circumnavigation expedition of globe by all-women crew entered west Australian port of Fremantle.
It is first stop over of INSV Tarini since the expedition was flagged off by Defence Minister Nirmala Sitharaman in Goa in September 2017. So far, the vessel has covered 4,800 nautical miles from Goa, crossing Equator and Tropic of Capricorn.
INSV Tarini
INSV Tarini is 55 foot sailing vessel built indigenously in India by M/s Aquarius Shipyard Pvt Ltd, Goa. It was inducted into the Indian Navy recently in February 2017.  It carries a suite of six sails, including a main sail, head sails (Genoa and stay sails), downwind sails and storm sail.
The boat has been named after famous 'Tara-Tarini' temple in Ganjam district of Odisha. The word 'Tarini' means boat and in Sanskrit it means saviour. Tara-Tarini is patron deity for sailors and merchants and is worshipped for safety and success at sea.
INSV Tarini has advance Raymarine navigation suite and an array of satellite communication systems for perfect navigation anywhere in world. It is sister vessel of INSV Mhadei which was used by Captain (Retd) Dilip Donde to successfully undertake India's first solo circumnavigation in 2009.
It is Indian Navy's all-women expedition to circumnavigate the globe to promote ocean sailing and spirit of adventure. It will circumnavigate globe in approximately 165 days and is expected to return to Goa in April 2018. The expedition will be covered in five legs, with stop-overs at 4 ports Fremantle (Australia), Lyttleton (New Zealand), Port Stanley (Falklands), and Cape Town (South Africa) for replenishment of ration and repairs as necessary.
Significance
Navika Sagar Parikrama voyage is in consonance with National policy to empower women to attain their full potential. It also aims to showcase India's Nari Shakti on world platform and help revolutionize societal attitudes and mindset towards women by raising visibility of their participation in challenging environs.
The voyage also aims to show case 'Make in India' initiative by sailing onboard indigenously built INSV Tarini. It also encourage use of environment friendly non-conventional renewable energy resources as ship harnesses wind, a renewable energy. The crew will also monitor and report marine pollution on the high seas.

Month: Current Affairs - October, 2017
Category: Defence Current Affairs
Topics: Australia • Defence • Environment • Fremantle • Goa • Indian Navy • INSV Tarini • Make in Inida • National • Navika Sagar Parikrama • Odisha • Women Empowerment
Latest E-Books