Brexit
February 14, 2017
This is a summary of the chapter 1 of the Economic Survey 2016-17. Key Economic Reforms in 2016 At domestic front, year 2016 was marked by two major policy developments viz. passage of GST bill and demonetisation.  The GST will create a common Indian market, improve tax...
November 5, 2016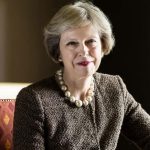 In her first overseas tour, British PM Theresa May is all set to lead a major business designation to India in an attempt to foster trade ties with the most sustainable and growing economy in the world of today. Britain cannot officially open any negotiations or even...
October 3, 2016
Prime Minister of UK, Theresa May put an end to the mounting speculations by formally announcing that UK will start Brexit proceedings in March 2017. UK will trigger Article 50 of the Lisbon Treaty which defines a two-year process of exit from the 28-nation group of EU....
Advertisement