Mammals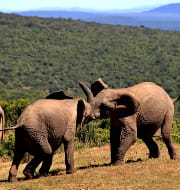 The Asian Elephant Specialist Group's (AsESG) 10th meeting commenced in Malaysia in December. The AsESG is a group of specialists, elephant conservationists, experts and partner organizations concerned with the conservation of the Asian Elephant (Elephas maximus). It is under the ..
Tags: Animals • Asian elephant • Borneo elephant • Elephants • Elephas
To reduce human-animal conflict, the Uttarakhand government has decided to carry out bio-fencing by growing various species of plants in those areas viz. lemongrass, agave, rambans, and chilly. The move is to prevent wild animals from entering residential areas and ..
Tags: Agave • Agavoideae • Livestock • Mammals • Our Lady of Guadalupe
According to the revised state-wise wild elephant population estimate based on the 2017 census, jumbo population across the country stood at 29,964 against 29,576 recorded as the mean figure in 2012. The South Region accounted for 14,612 followed by North ..
Tags: Elephants • Kerala • Mammals
The Union environment ministry has recently declared Rhesus Macaque monkeys as vermin in Himachal Pradesh for a period of one year & allow the state forest department to cull them for preventing crop depredation, conflict with humans and loss of ..
Tags: Animals • Macaque • Mammals • Ministry of Power • Monkeys
The researchers at the University of St Andrews in Scotland have found that gray seals can copy the sounds of human words and songs including "Twinkle, Twinkle, Little Star". The study showed that 3 trained seals were able to imitate ..
Tags: Bearded seal • Earless seal • Fauna of Europe • Grey seal • Mammals
The study published by the Royal Botanic Gardens, Kew makes the following observations:571 seed-bearing plant species have vanished from Earth or nearly 2 per year since 1750.The rate of extinction has worsened to 3 per year in the last 100 ..