Higgs boson Current Affairs, GK & News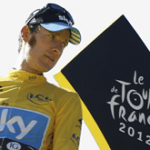 India became an associate member of the European Organisation for Nuclear Research (CERN), the world's largest nuclear and particle physics laboratory. In this regard, an agreement was signed by Dr. Sekhar Basu, Chairman, Atomic Energy Commission (AEC) and CERN Director General Dr. Fabiola Gianotti in Mumbai, Maharashtra. India will formally become member of CERN around ..
Month: Current Affairs - November, 2016
Topics: CERN • God particle • Higgs boson • India • Large Hadron Collide • National • Science and Technology
India and European Organization for Nuclear Research (CERN) have signed an agreement making India the Associate Member State of CERN. Resolution to this effect was adopted earlier on September 15, 2016. Presently, the CERN consists of 22 member states, 4 associate member states, 4 Observer states and 3 international organizations. CERN is a research ..
Topics: CERN • Hadron collider • Higgs boson • Large Hadron Collider • Meyrin • Natural sciences • Particle physics • Peter Jenni • Physical sciences • Physics • Physics beyond the Standard Model • Science and technology in Europe
In the field of Physics a quantum jump was made as the scientists at the Switzerland's CERN research centre near Geneva discovered a sub-atomic particle 'Higgs boson', prevalently known as the "God particle", conceived to be an essential building block that contributed to the shaping of the universe. A declaration to this effect was made ..
Month: Current Affairs - July, 2012
Topics: Boson • Fellows of the Royal Society • Higgs boson • Natural sciences • Nobel laureates in Physics • Particle physicists • Peter Higgs • Physical sciences • Physics • Quantum field theory • Standard Model • Subatomic particle