Page-2 of
Federalism Current Affairs, GK & News
The Lok Sabha has passed a resolution which has extended the President s rule in Jammu & Kashmir by another six months. The Jammu & Kashmir has been under President s rule since June 20, 2018, after the ruling coalition of Mehbooba Mufti s PDP and the BJP broke down. The state assembly was dissolved ..
Topics: Federalism • Jammu and Kashmir • president rule • Supreme Court of India
'Transformation of Aspirational Districts' programme aims to quickly and effectively transform the backward districts. The broad contours of the programme are Convergence (of Central & State Schemes), Collaboration (of Central, State level 'Prabhari' Officers & District Collectors), and Competition among districts driven by a mass Movement. The programme brings a radical shift in governance The ..
Topics: Federalism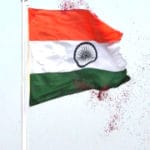 Karnataka Government has constituted a nine-member committee to study the possibility of designing a separate state flag and providing it a statutory standing. It will be headed by Principal Secretary, Department of Kannada and Culture. It shall submit report to the state Government after looking into required possibilities. Background The committee was constituted following representation ..
Month: Current Affairs - July, 2017
Topics: Federalism • Flag Code • Karanataka • National • State Flag • States