Page-4 of
Continents Current Affairs, GK & News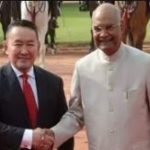 Mongolian President Khaltmaagiin Battulga is on a five-day visit to India with an aim to intensify bilateral ties between the two countries. He was received by the Union Minister Kiren Rijiju. Later he was received by President Ramnath Kovind at the Rashtrapati Bhavan and was accorded ceremonial reception. Bilateral Talks President Battulga held talks with ..
Topics: Battulga • Continents • Countries • Geography of Asia • Khaltmaagiin Battulga • Mongolia • Ulaanbaatar
Prime Minister Narendra Modi and visiting Mongolian President Khaltmaagiin Battulga have jointly unveiled a golden statue of Lord Buddha at Gandan Tegchenling Monastery in Ulaanbaatar through video-conferencing in New Delhi. The monastery is a prominent centre of Mongolian Buddhists and a treasure house of valuable Buddhist heritage. Built in the mid 19th century, Gandan is ..
Topics: Battulga • Continents • East Asia • Eurasian Steppe • Gandan • Gandantegchinlen Monastery • Geography of Asia • Inner Asia • Khaltmaagiin Battulga • Mongolia • Republics • Ulaanbaatar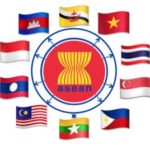 The Minister for External Affairs S Jaishankar launched a massive fully-funded PhD fellowship programme at IITs for students from ASEAN countries. PhD Programme The programme is the largest of its kind and will select 1,000 students in three phases and the government will spend Rs 300 crore on this fully-funded PhD fellowship programme. IIT-Delhi has ..
Topics: ASEAN University Network • Asia • Association of Southeast Asian Nations • Continents • Free trade areas • Southeast Asia
India and Uganda relations were strong since the beginning of the 19th century. Indians were brought to Uganda in the 19th century for the construction of Mombasa – Kampala railway line. Indian freedom struggle was a great inspiration for many Ugandan activists. Uganda freedom struggle was also supported by Indian leaders like Jawaharlal Nehru. The ..
Topics: Africa • Continents • Countries • Idi Amin • Indian diaspora in Africa • Uganda
India recognized South Sudan in the year 2011 immediately after South Sudan became independent. South Sudan maintains an embassy in New Delhi and India at Juba. South Sudan was under the British – Egyptian rule from 1899 to 1955. It became independent and agreed to remain under the Government of Sudan in 2005 by signing ..
Topics: Africa • Comprehensive Peace Agreement • Continents • Countries • Federal republics • Least developed countries • Member states of the African Union • Member states of the United Nations • Second Sudanese Civil War • South Sudan • Sudan