ISRO, NASA working towards realisation of NISAR Mission by 2021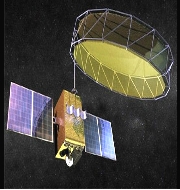 ISRO and NASA are jointly working on the NASA-ISRO Synthetic Aperture Radar (NISAR) mission to co-develop and launch a dual frequency synthetic aperture radar (SAR) satellite by 2021.
The satellite will be the world's most expensive earth-imaging satellite till date, costing around $1.5 billion. It aims to study global environmental change and natural disasters.
Salient Features
NISAR is a dual frequency (L & S Band) Radar Imaging Satellite. It will be the first radar imaging satellite to use dual frequency.
In this joint mission, NASA's Jet Propulsion Laboratory (JLP) will be responsible for design and development of L-band SAR, GPS system, 12m unfurlable antenna and data recorder.
ISRO will be responsible for design and development of S-band SAR, Spacecraft Bus,data transmission system, spacecraft integration & testing, launch using GSLV and on-orbit operations.
Mission Life: It is expected to be launched in year 2021. It will have mission life of 3 years.
Operational orbit: The satellite is planned to be launched into a Sun-synchronous dawn to dusk orbit.
Applications: It will provide an unprecedented detailed view of Earth by taking snapshots every week using advanced radar imaging.
It is designed to observe and take measurements of some of the planet's most complex processes, including ecosystem disturbances, natural hazards such as earthquakes, tsunamis, volcanoes and landslides.
It will be used also for natural resources mapping & monitoring, estimating agricultural biomass over full duration of crop cycle.
It will be also monitor floods and oil slicks, coastal erosion, coastline changes and variation of winds in coastal waters, surface deformation studies due to seismic activities etc.
Implementation Process: Implementation Arrangement (IA) of mission, defining roles and responsibilities of ISRO and NASA was signed between two space agencies in September 2014.
So far, ISRO has completed Baseline Design Reviews of satellite and S-band SAR payload. NASA's JLP has successfully completed Mission Concept and Key Decision Point reviews. The first Joint Steering Group (JSG) meeting of NISAR was held in July 2015.
Cost of the project: Costing around $1.5 billion, it will be world's most expensive earth-imaging satellite till date.
Space Diplomacy: The mission will establish a general pathway for future joint missions between ISRO and NASA for Mars exploration. It will also further strengthen the Indo-US ties.
Month: Current Affairs - August, 2017
Topics: India-US • ISRO-NASA • NASA-ISRO Synthetic Aperture Radar • National • NISAR mission • Science and Technology • Space Diplomacy
Latest E-Books