IRNSS-1I: ISRO successfully launches navigation satellite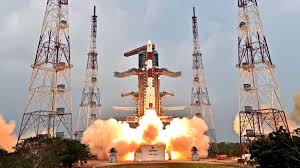 The Indian Space Research Organisation (ISRO) has successfully launched IRNSS-1I navigation satellite from Sriharikota in Andhra Pradesh. The satellite was launched on board of PSLV-C41 (height of 44.4 meters and weight of 321 tonnes) after the normal lift-off and was successfully placed in the designated orbit. It was overall 20th flight of PSLV-XL version and 41st successful mission of total 43 of PSLV.
Key Facts
The IRNSS-1I is overall eighth satellite to join ISRO's NavIC navigation satellite constellation. It replaced IRNSS-1A, the first of seven navigation satellites of IRNSS series that was rendered ineffective after its three rubidium atomic clocks failed. IRNSS-1I was made by Bengaluru-based Alpha Design Technologies in collaboration with ISRO.
Note: It was ISRO's second attempt to send replacement satellite. The previous mission of a PSLV carrying IRNSS-1H in August 2017 failed after the heat shield covering satellite failed to separate in space after the launch.
The IRNSS-1I was having lift-off weight of 1,425 kg and has life span of 10 years. It carried two types of payloads: Navigation and Ranging.  They are L5 and S-band navigation payloads and C-band ranging payloads. It also has corner cube retroreflectors for LASER ranging. It will be stationed in Geosynchronous Orbit at 36,000 km height.
IRNSS
The Indian Regional Navigation Satellite System (IRNSS) is an independent satellite based regional system developed indigenously by India on par with US-based GPS, Russia's Glonass and Galileo developed by Europe. It was renamed "Navic" (Navigation with Indian Constellation).
The NAVIC system is constellation of seven satellites, (namely IRNSS-1I, 1B, 1C, 1D, 1E, 1F and 1G) of which three are geostationary and four are non-geostationary. It provides location tracking within 20 meters of actual positions, especially in 1,500 km area around the country's borders. The indigenous satellite-based navigation system under one's control and command is considered a deep strategic asset.
The NAVIC navigation system has both civilian and military uses. Moreover, it helps not just in land navigation but also in marine and aerial navigation. It offers wide services like terrestrial and marine navigation, disaster management, vehicle tracking and fleet management visual and voice navigation for drivers.

Background
The need for indigenous navigation system on par with GPS was felt soon after Kargil conflict (1999), when India desperately needed services osatellite-based navigation system, but did not have one of its own. The US system was not available at the time. Only US (named GPS) and Russia (Glosnass) currently have fully operational GPS systems at present. China (Beidou) and Europe (Galileo) are still in process of deploying their full systems.
Month: Current Affairs - April, 2018
Topics: IRNSS • IRNSS-1I • ISRO • NavIC • Navigation system • PSLV • Science and Technology
Latest E-Books