ICMR calls for ban on Electronic Nicotine Delivery Systems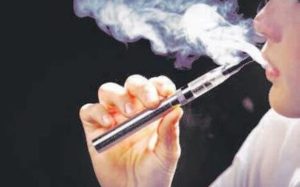 The Indian Council of Medical Research (ICMR) recommended 'complete' ban on Electronic Nicotine Delivery Systems (ENDS), including e-cigarettes. The recommendation is based on currently available scientific evidence.
On occasion of World Tobacco Day which was observed on 31 May, ICMR released a white paper (an authoritative report or guide that informs readers about an issue) about harmful effects of ENDS and e-cigarettes.
Key Findings of ICMR's White Paper
Background: In 2018 Centre government issued an advisory recommending a ban on sale of e-cigarettes in India. Later a committee headed by K Srinath Reddy of Public Health Foundation of India (PHAI) was constituted which included experts from ICMR, Ministry of Health and Family Welfare, AII India Institute of Medical Sciences (AIIMS), Food Safety and Standards Authority of India (FSSAI) and Post Graduate Institute of Medical Education and Research (PGIMER) in Chandigarh. The committee was tasked to analyse more than 300 research articles from all over the world and prepared the white paper.
Addictive: It noted that e-cigarettes and other such devices contained not only nicotine solution, that was highly addictive, but also harmful ingredients like flavoring agents and vaporisers.
Marketing: It found that availability of flavour variants and attractive designs are adding to allure of devices, and globally there was an increasing trend of e-cigarettes consumption among youth and adolescents. There are more than 460 different e-cigarette brands with varied configuration of nicotine delivery that come in over 7,700 flavours.
Worry: Use of ENDS or e-cigarettes can open a gateway for new tobacco addiction among the masses as on the balance, these have a negative impact on public health.
Effect on Health:  Prolonged use of ENDS or e-cigarettes has documented adverse impact on humans which includes DNA damage, respiratory/cardiovascular/ neurological Disorders, carcinogenic/cellular/molecular/immunological Toxicity and even have adverse effects on fetal development and pregnancy.
It rejected argument that e-cigarettes could help smokers quit tobacco consumption. Although such benefits of e-cigarettes consumption have not been firmly established but these devices could encourage non-smokers to get addicted to tobacco.
Youth: With large number of e-cigarette brands promoting thousands of flavors, the e-cigarette are fast becoming a trend among youngsters. Research has found that youths using e-cigarettes (or other such devices) are more likely to use regular cigarettes in later period. The exposure to ENDS increases the likelihood to experiment with regular products and increase intention to indulge in cigarette smoking.
Way Forward
These scientific and research data given in the white paper could help the government to formulate necessary policies on ENDS or e-cigarettes and other such devices.
Month: Current Affairs - June, 2019
Category: Reports & Indexes Current Affairs
Topics: e-cigarettes • electronic nicotine delivery systems • ENDS • Food Safety and Standards Authority of India • FSSAI • ICMR • ICMR's White Paper • Indian Council of Medical Research • K Srinath Reddy • PHAI • Public Health Foundation of India • World Tobacco Day
Latest E-Books