Dr Divya Karnad Wins the Prestigious Future for Nature 2019 Award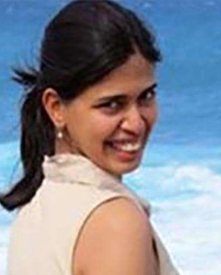 Dr Divya Karnad, Assistant Professor of Environmental Studies at Ashoka University has been awarded the prestigious Global Future For Nature Award 2019 for her work on marine conservation.
Other Recipients
The other recipients of the Global Future For Nature Award is awarded for the year 2019 are: Fernanda Abra (Brazil) and Olivier Nsengimana (Rwanda).
Dr Divya Karnad's project InSeason Fish had successfully reduced the unwanted bycatch of endangered sharks along the Coromandel coast of India.
Divya Karnad did her PhD in Geography from Rutgers University, USA and has completed her Masters in Wildlife Biology and Conservation from the Post Graduate Programme run by the National Centre for Biological Sciences, Centre for Wildlife Studies and Wildlife Conservation Society, India.
Future for Nature Award
Future for Nature 2019 Award awarded by Future for Nature foundation celebrates tangible achievements in protecting wild animal and plant species. The award aims to :
Reward and fund individuals for their outstanding efforts in the protection of species of wild animals and plants.
Stimulate Award winners to sustain their dedicated work.
Help winners to raise their profile, extend their professional network and strengthen their funding basis.
The Award provides the winners international recognition, financial support and reinforced linkages to an international conservation network.
Category: Awards, Persons & Places in News
Topics: Conservation of Sharks • Coromandel Coast • Dr Divya Karnad • Future for Nature 2019 Award • Future for Nature Award • Future for Nature foundation
Latest E-Books