Croatia's switch to Euro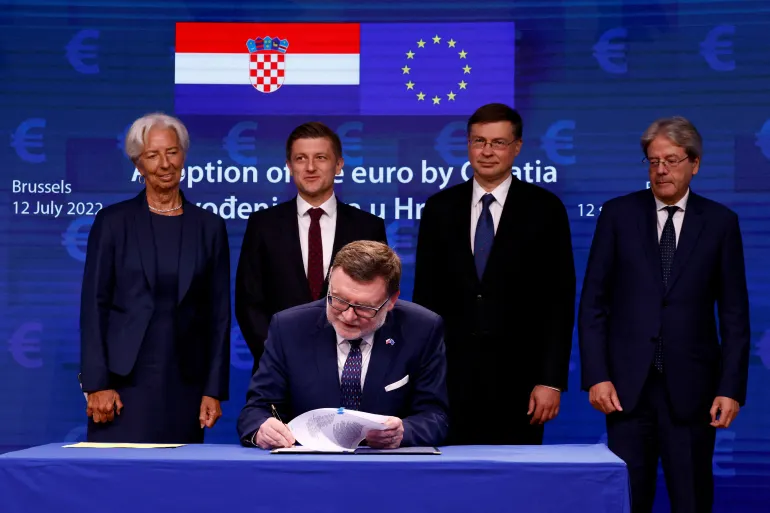 Croatia has taken two major steps towards further integration with the European Union (EU) by adopting the euro and joining the Schengen zone. The country officially became the 20th member of the eurozone on January 1st, and the removal of land border controls with neighboring Slovenia and Hungary marks its inclusion in the Schengen zone.
The Adoption of the Euro
Croatian Prime Minister Andrej Plenković hailed the adoption of the euro as a "historic moment" that would better protect Croatian citizens from financial crises. The euro was already widely used in the country, with about 80% of bank deposits denominated in the currency and many shops and restaurants in tourist areas accepting payment in euros. The adoption of the euro is expected to improve borrowing conditions in Croatia and shield its economy at a time when inflation is soaring worldwide. In November, Croatia's inflation rate was 13.5%, higher than the 10% in the eurozone.
Joining the Schengen Zone
The inclusion of Croatia in the Schengen zone, which allows for passport-free travel between 26 European countries, is expected to boost tourism in the country. The tourism industry accounts for 20% of Croatia's GDP, and the end of land border controls with Slovenia and Hungary is expected to make it easier for tourists to visit the country's popular Adriatic coastline.
A Symbol of Croatia's Journey
Croatian politicians have described the adoption of the euro and the removal of borders with neighbouring countries as symbolic steps that mark the end of the country's post-independence journey. Croatia declared independence from Yugoslavia in 1991 and fought a war to cement its existence as an independent state, in which 20,000 were killed and hundreds of thousands were displaced. The country joined the EU in 2013, making it the most recent member.
Reactions to the Changes
The general mood in Croatia has been celebratory about the changes, with some people even traveling to border crossings to witness the end of passport checks in real-time. "I spent years of my life waiting at border checkpoints, so I came here tonight to witness this moment, the moment after which I will wait no more," said 72-year-old professional driver Stipica Mandić at the Bergana crossing with Slovenia.
However, some Croatians have expressed fears that the switch to the euro could lead to price increases. Experts have pointed out that inflation in recent months has tended to be higher in EU countries, such as Poland and Hungary, which are outside the eurozone.
The adoption of the euro and inclusion in the Schengen zone represent significant steps for Croatia as it further integrates with the EU. The changes are expected to benefit the country's economy and tourism industry, and are seen as a symbol of the end of Croatia's post-independence journey.
Month: Current Affairs - January, 2023
Category: International / World Current Affairs
Topics: Adoption of Euro • Central bank • Croatia • Currency exchange • Economic integration • Euro • European Union • Eurozone • Exchange rate
Latest E-Books