Bhupesh Baghel to become the new CM of Chhattisgarh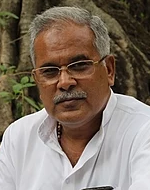 Bhupesh Baghel, who is also the president of Chhattisgarh Pradesh Congress Committee, will be the new chief minister of Chhattisgarh state. Bhupesh Baghel has been named as the leader of the Congress Legislature Party (CLP) by the newly elected legislators in Raipur on 16th December 2018.
About Bhupesh Baghel:
Bhupesh Baghel is a politician from Chhattisgarh and belongs to Indian National Congress.
He is set to become the third chief minister of Chhattisgarh after the INC won the majority of seats in Assembly elections held in November 2018.
The assembly constituency of Bhupesh Baghel is Patan in District Durg
2018 Assembly Elections in Chhattisgarh:
The Chhattisgarh Legislative Assembly elections in 2018 took place to elect members of the Vidhan Sabha (Legislative Assembly) of Chhattisgarh. The elections in Chhattisgarh were held in two phases:  the first phase of elections for 18 seats in South Chhattisgarh was held on 12 November 2018 and the second phase of elections for the remaining 72 took place on 20 November 2018
The elections were held for a total of 90 Assembly seats.
The Indian National Congress won 68 seats out of 90 seats winning the majority to form the government.
The Bharatiya Janata Party could win only 15 seats.
The Incumbent Chief Minister of Chhattisgarh Sh. Raman Singh resigned from his post on 11th December 2018
Baghel will be sworn in as the chief minister of Chhattisgarh by Governor Anandiben Patel in a ceremony in the state capital Raipur on 17th December 2018.
Month: Current Affairs - December, 2018
Topics: Bhupesh Baghel • BJP • Chhattisgarh • Elections
Latest E-Books