Anti-dumping duty on 93 products from China: Government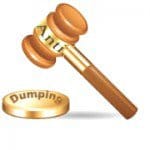 The Union Government has announced that anti-dumping duty is in force on 93 Chinese products to protect profitability of the domestic industry from import of cheap Chinese goods.
These products fall in the broad groups of chemicals and petrochemicals, steel and other metals, machinery items, fibres and yarn, rubber, plastic products, electric and electronic items and consumer goods, among others.
In addition to these 93 products, 40 cases concerning imports from China have been initiated by Directorate General of Anti-Dumping and Allied Duties (DGAD).
Anti-dumping duty
Anti-dumping duty is a protectionist stance taken by a government to cushion domestic companies from an increase in cheap price imports. It is imposed by government on imported products which have prices less than their fair normal values in their domestic market.
Why it is imposed?
When a country exports its products to other countries with a selling price below the cost price of the same product in other countries then it is called as dumping of products. This harms the profitability of domestic companies. Anti-dumping steps are taken to ensure fair trade and provide a level-playing field to the domestic industry.
Mechanism for imposition
Anti-Dumping Duty is imposed under the multilateral World Trade Organisation (WTO) regime and varies from product to product and from country to country. In India, anti-dumping duty is recommended by the Union Ministry of Commerce (i.e. by DGAD) and imposed by the Union Finance Ministry.
Month: Current Affairs - August, 2017
Topics: Anti-dumping duty • Business • China • Economy • National • Trade
Latest E-Books