1st Meeting of "BRICS Contact Group on Economic and Trade Issues"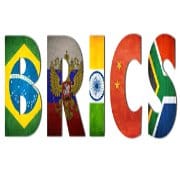 The BRICS Contact Group on Economic and Trade Issues (CGETI) held their first meeting under the Chair ship of India. The meeting was held from March 9 to March 11, 2021. The meeting was held under the Theme –"BRICS @15: Intra BRICS Cooperation for Continuity, Consolidation, and Consensus".
Highlights
India under its Chair ship for 2021, presented a calendar of events for BRICS CGETI 2021. Those events comprise of priority areas for deliverables, schedule and scope of MSME roundtable conference workshop on Services Statistics and BRICS Trade Fair. It was followed by several presentations made by the concerned department on proposed deliverables during the India's Chair ship under BRICS CGETI track.
Proposed Deliverables
The deliverables proposed includes:
Action plan on the basis of document "Strategy for BRICS Economic Partnership 2025" which was adopted during Russian Presidency in 2020.
BRICS Cooperation on Multilateral Trading system such as cooperation for Trade-Related Aspects of Intellectual Property Rights ( TRIPS ) Waiver proposal at World Trade Organisation (WTO).
Framework for Consumer Protection in the E-Commerce
Non-Tariff Measures Resolution Mechanism
Sanitary and Phytosanitary Working Mechanism
Co-operation framework for protection of Genetic Resources & Traditional Knowledge
BRICS Framework on the Co-operation in Professional Services.
BRICS 2021 –13th BRICS Summit
BRICS 2021 or the 13th BRICS Summit will be held under the chair ship of India under the theme 'BRICS @ 15: Intra-BRICS Cooperation for Continuity, Consolidation and Consensus.' The summit will hold discussions around three pillars including:
Political and Security – The members will hold discussions over global and regional security for which the priority sectors include- counter terrorism cooperation & reform of multilateral system.
Economic and Financial – The members will focus on the intra-BRICS cooperation in sectors including agriculture, trade, infrastructure, energy, finance & banking and small & medium enterprises.
Cultural and People to People – The cultural and people to people exchanges will enhance the bonding among the members.
Month: Current Affairs - March, 2021
Category: International / World Current Affairs • Summits and Conferences
Topics: 13th BRICS Summit • BRICS 2021 • BRICS CGETI • BRICS Contact Group on Economic and Trade Issues • Strategy for BRICS Economic Partnership 2025 • TRIPS Waiver on Covid-19 vaccines • World Trade Organization (WTO)
Latest E-Books