Odisha: Only state to have all three species of crocodiles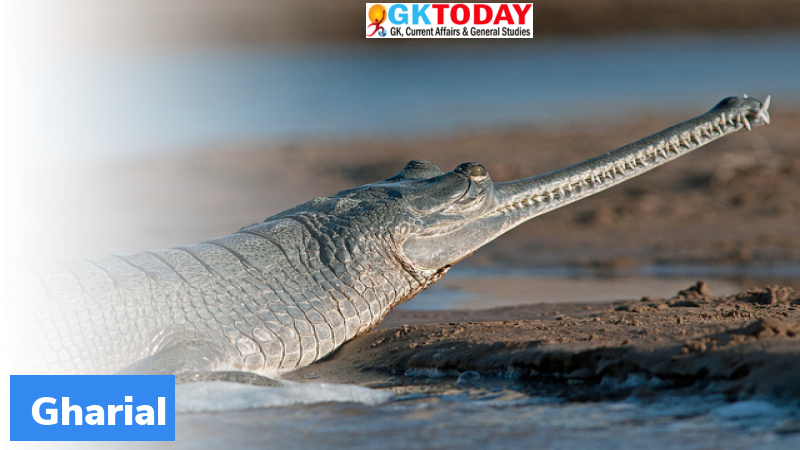 Odisha has become the only state in India to have all the three species of crocodiles.
Key Points
Three species in the state of Odisha are:
Reptile freshwater Gharials at Satkosia in Mahanadi,
Muggers in Bhitarkanika National Park and
Saltwater crocodiles.
Odisha has witnessed natural nesting of Gharials (a critically endangered species) for the first time since they were introduced in its rivers in 1975.
About 28 hatchlings of Gharials were spotted in Mahanadi River in Baladamara area near Satkosia range.
Gharials in Odisha
Original Gharials which were introduced in Odisha are dead now. After waiting for 40 years for their numbers to grow naturally, Odisha introduced 13 more Gharials in past three years in the Mahanadi. But only eight survived.
About Gharial
Gharials, also known as gavial or fish-eating crocodile, are crocodilian of family Gavialidae. They are among longest of all living crocodilians. They have been named gharial because of a distinct boss at the end of snout, which resembles an earthenware pot called ghara. Gharials are well adapted to catching fish because of its long, thin snout and 110 sharp & interlocking teeth. They have been listed as critically endangered in IUCN Red List since 2007.
Background
They probably evolved in northern Indian subcontinent. Fossil gharial remains were excavated in Pliocene deposits from Shivalik Hills and Narmada River valley. They currently inhabit rivers in northern Indian subcontinent.
Tags: Critically endangered • Crocodile • Crocodilians • Gharial • Gharial Hatchlings
Month: Current Affairs - June, 2021