National Conference on PM MITRA Scheme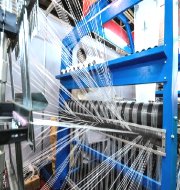 A National Conference on PM Mega Integrated Textile Regions and Apparel Park (PM MITRA) Parks Scheme was recently held.
Who organized the conference?
Ministry of Textiles.
What are the highlights of the conference?
Officials from 13 State Governments enumerated the contours of the 18 proposals for setting up of PM MITRA Parks in their respective states.
Each state government showcased its strengths in the textiles sector and detailed the incentives being provided. For example, Special Chief Secretary (Industries) of Andhra Pradesh state explained the facilities being provided by the Industry Policy 2020-23 and AP Industrial Infrastructure Corporation (APIIC).
Representatives from the industry also shared their suggestions and apprehensions about the PM MITRA scheme.
What are the features of PM MITRA scheme?
PM MITRA Parks will offer an opportunity to create an integrated textiles value chain right from spinning, weaving, processing/dyeing and printing to garment manufacturing at one location.
The scheme is intended to generate around 1 lakh direct and 2 lakh indirect jobs per park.
Sites for PM MITRA Parks will be selected by a Challenge Method based on objective criteria.
Proposals of States having ready availability of contiguous and encumbrance-free land parcel of 1,000+ acres along with other textiles related facilities will be welcomed.
How will PM MITRA scheme benefit textiles sector?
Since, PM MITRA offers the opportunity to create an Integrated Textiles Value Chain at one location, it will reduce logistics cost of Industry and ensure economies of scale.
The parks will also attract cutting edge technology and boost local & foreign investment in the textiles sector.
It will also help in achieving the United Nations Sustainable Development Goal (SDG) 9: "Build resilient infrastructure, promote sustainable industrialization and foster innovation".
What is the vision of PM MITRA scheme?
The PM MITRA scheme is inspired by the 5F vision – Farm to Fibre to Factory to Fashion to Foreign.
Month: Current Affairs - May, 2022
Category: Government Schemes Current Affairs