Medium Range Surface to Air Missile (MRSAM)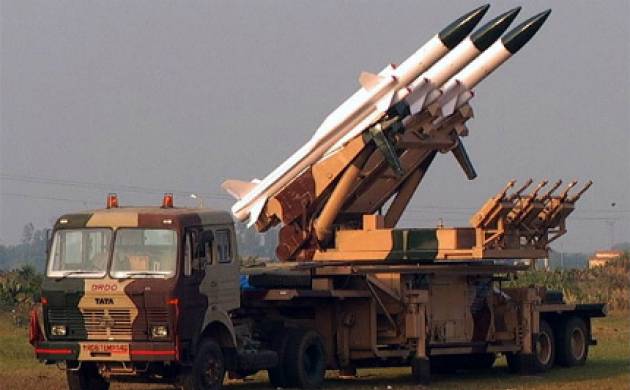 The Medium Range Surface to Air Missile, MRSAM was recently tested from a defence facility in Odisha. It was jointly developed by the Defence Research development Organisation and the Israel Aerospace Industries.
About MRSAM
MRSAM is a one command control system that tracks missiles, radar and mobile launcher systems. It is capable to transport and launch eight canisterised missiles in two stacks. The weapon weighs 276 kilo grams and is 4.5 metres long.
It is equipped with advanced active radar Radio Frequency seeker, bidirectional data link and phased array radar. The combat management system of the missile simplifies the process of engaging variety of threats. The system tracks the threat using a tracking radar. The system calculates the distance between the launcher and the target and determines if the target is a friend or foe.
The phased array radar provides high quality air situation picture. The bidirectional data link is used for relaying midcourse guidance and target information to the missile.
The MRSAM is powered by the dual-pulse solid propulsion system developed by DRDO. It is coupled with a vector control system that allows the missile to move at Mach 2 speed. It can engage multiple targets simultaneously at ranges of seventy kilometres.
The MRSAM deal was signed in 2009. According to the agreement, the Indian Air Force was to purchase 450 MRSAMs and eighteen firing units that were worth of 2 billion USD.
In 2016, IAI and DRDO successfully conducted three flight tests to validate the missile components. The missile successfully intercepted a moving aerial target in the tests. In 2017, the MRSAM was exhibited at the Aero India.
In 2017, IAI signed a 2 billion USD agreement to supply MRSAM to the Indian Army. The recent test is associated to the MRSAM of Indian Army.
In 2019, IAI signed 93 million USD Agreement with Cochin Shipyard and Indian Navy to provide maintenance and other services MRSAM and its sub systems.
Tags: Defence Research & Development Organisation (DRDO) • India-Israel • MRSAM • MRSAM Defence System • MRSAM missile system
Month: Current Affairs - December, 2020