Mandatory Gold Hallmarking from June 1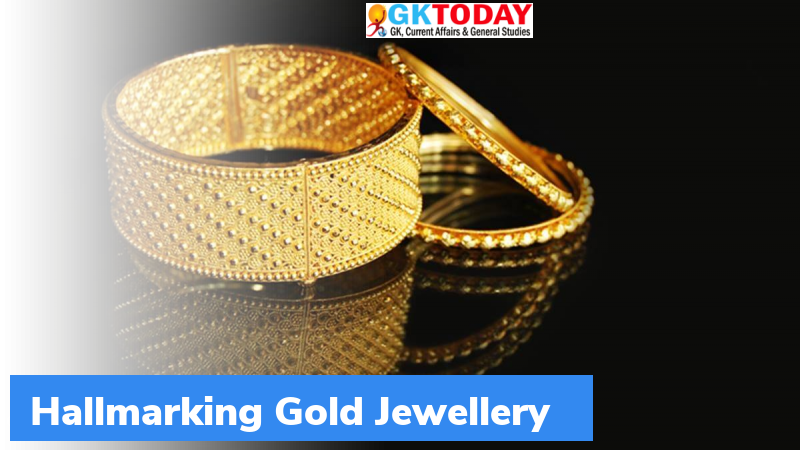 The Government of India recently announced that it is fully prepared to implement mandatory hallmarking of gold artefacts and jewellery from June 1, 2021. Currently, Gold Hallmarking is voluntary in the country.
What is Gold Hallmarking?
Gold Hallmarking is providing purity certification to the gold jewellery and artefacts.
Only three grades of jewelleries will now be hall marked under the new regulations. They are 14-carat, 18-carat and 22-carat. Earlier, ten grades of gold jewelleries were hall marked.
The new Gold Hallmark will contain four marks. They are purity in carat, BIS mark, assay centre's name and the identification mark of the jeweller.
The system is also available for consumers who want their old jewelleries hallmarked.
A person found violating the provisions will have to pay a minimum fine of Rs 1 lakh or five times the price of the article.
Importance of Gold Hallmarking
The mandatory hallmarking of gold will protect the public against lower carat. This will ensure that the consumers are not cheated.
It will bring in transparency and will assure quality to the consumers.
It will remove corruption in the system of manufacturing of jewellery.
Legality of Gold Hallmarking
The BIS Act, 2016 made gold hallmarking mandatory in India. The act has also identified new areas in standardisations such as E-mobility, alternate fuels, medical devices, digital technologies, smart cities and new renewable energy.
The Hallmarking scheme for gold artefacts is run by BIS since 2000.
Also, the BIS Hallmarking Regulations, 2018 called for hallmarking of silver jewellery and silver artefacts and also gold jewellery and gold artefacts. Uhe regulations, the penal provisions were made stringent.
Tags: BIS • Bureau of Indian Standards • Bureau of Indian standards Act 2016 • Hallmark
Month: Current Affairs - April, 2021