Maharashtra government gives nod for GM food trials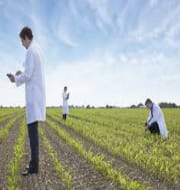 Maharashtra government has given nod to confined genetically modified (GM) food trails in state.
In this regard, state government has granted no-objection certificates (NOC) for open field trials of 5 genetically modified (GM) crops. They are rice, chana (chickpeas), maize, brinjal and cotton.
NOC was granted by state government after state-level Committee, headed by Anil Kakodkar had given clearance for field test of these five GM crops.
Based upon the results of these trials, government take further steps.
With this decision, Maharashtra has become the fourth state after Punjab, Delhi and Andhra Pradesh to approve open field trials in GM crops.
Confined trials: It is typically carried out in small plots of one hectare or less. It is primarily meant to collect data on the potential bio-safety impact of the GM crop lines.
Why state governments NOC are required for GM food trails?
Earlier, Genetic Engineering Appraisal Committee (GEAC) under the previous UPA Environment Ministry had permitted field trials of GM food in India.
But GEAC had inserted mandatory condition of separate NOCs from states for such trials.
So, states like Madhya Pradesh and Rajasthan have banned such research activities.
Tags: Anil Kakodkar • confined genetically modified (GM) food trails • Current Affairs 2016 • Genetic Engineering Appraisal Committee (GEAC) • Maharashtra
Month: Current Affairs - January, 2015