ICRISAT, ICAR join hands for crop improvement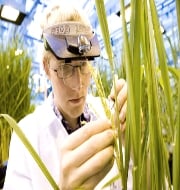 The Indian Council of Agricultural Research (ICAR) and International Crops Research Institute for the Semi-Arid Tropics (ICRISAT) have signed an agreement to work together
They will work together on crop improvement and agronomy programmes for grain legumes and dryland cereals. It will benefit small farmers in India and globally.
Key Facts
The agreement has identified climate smart crops, smart food and digitalisation of breeding database as some of the core areas of research.
The other areas of focus include developing genetic and genomic resources of finger millet and enhancing genetic gains for priority traits, integrating systems modelling tools for upscaling climate resilient agriculture.
On crop improvement front, it will facilitate research on pigeonpea and chickpea for insect resistance. Dryland cereals and grain legumes are branded as smart foods.
About International Crops Research Institute for the Semi-Arid-Tropics (ICRISAT)
ICRISAT is a non-profit agricultural research organization headquartered in Patancheru in Hyderabad, Telangana.
It was founded in 1972 by a consortium of organizations convened by the Ford and the Rockefeller Foundations.
Its charter was signed by the Food and Agriculture Organization (FAO) and United Nations Development Programme (UNDP).
It has several regional centres around globe- Niamey (Nigeria), Nairobi (Kenya) and research stations Bamako (Mali), Bulawayo (Zimbabwe).
Since its inception, India has granted special status to ICRISAT as a UN Organization operating in the Indian Territory making it eligible for special immunities and tax privileges. 
About Indian Council of Agricultural Research (ICAR)
ICAR is an autonomous body responsible for co-ordinating agricultural education and research in India. It is the largest network of agricultural research and education institutes in the world.
It reports to the Department of Agricultural Research and Education under the Union Ministry of Agriculture. The Union Minister of Agriculture serves as its president.
Tags: Agriculture • Agronomy • Genetic Crops • ICAR • National
Month: Current Affairs - March, 2017