HimVijay exercise: to be organised by IAF on Chinese border in October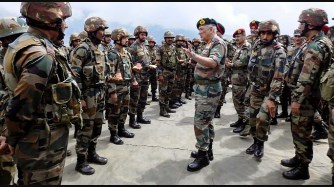 The exercise codenamed as 'HimVijay' is scheduled to be carried out by Indian Armed Forces in October 2019 in Arunachal Pradesh, close to borders with China. In these upcoming war games, the Indian Armed Forces plan to deploy their latest American weapons systems such as M777 ultra-light howitzers and Chinook heavy-lift helicopters.
About HimVijay exercise
HimVijay exercise is planned by India at over 10,000 feet in the northeast (in Arunachal Pradesh). It will be held a little further from Line of Actual Control (LAC) with China.
Participants:
This exercise assumes greater significance as Indian Army will for the 1st time see in action its Integrated Battle Groups (IBGs)– the brainchild of Army Chief Gen Bipin Rawat. Also, three mountain IBGs carved out of Panagarh-based 17 Corps' (Mountain Strike Corps) 59 Mountain Division will be in action. IBGs are touted to be mainstay of future operational strategies in Western, Northern and Eastern theatres.
The exercise will mainly test war fighting abilities of newly-raised 17 Mountain Strike Corps and the 17 MSC has been provided with M777 Ultra-Light Howitzers as they would be in an attack mode against the 'enemy' locations and would require lighter guns.
Exercise will also involve Indian Air Force (IAF) which would provide aerial elements for real war-type drills.
Operation 'will see the participation of more than 15,000 personnel, with each IBG consisting of nearly 5,000 troops backed by a combination of tanks, medium artillery, helicopters and transport aircraft. Exercise will see in action C130J Super Hercules, AN32s and the C17s besides helicopters from both Army Aviation and IAF.
Month: Current Affairs - September, 2019