Government bans imports of hormone oxytocin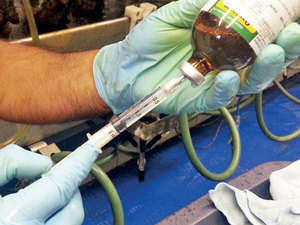 The Union government has banned imports of hormone oxytocin to stop its misuse in livestock industry, where it causes hormonal imbalances and shortens the lives of milch animals. The Government has decided to rely on domestic production to satisfy requirements of hormone. It has asked customs officials to step up vigilance against those likely to try and smuggle oxytocin into India.
Background
India had halted retail sales of oxytocin as prescription-only drug in 2014, but failed to curb illegal sales and the volume of imports was unclear. Even, Drug Technical Advisory Board (DTAB) in February 2018 had recommended import ban of oxytocin. It also had recommended that sale be limited to registered government hospitals and clinics and bar code system should be used on all forms of drug to ensure tracking and prevent abuse. For adopting its recommendations, DTAB proposal had proposed amendments to section 10 of Drugs and Cosmetics Act, 1940 and rule 96 of Drugs and Cosmetics Rules, 1945.
Oxytocin
Oxytocin, often called love hormone, is released naturally in human bonding activities such as sex, childbirth and breastfeeding.  It is uterine stimulant hormone, prescribed for initiation of uterine contractions and induction of labour in women as well as stimulation of contractions during labour. It is also used to help abort fetus in cases of incomplete abortion or miscarriage, and control bleeding after childbirth. It may be used for breast engorgement.

Misuse
It is a controversial hormonal injection that is used widely in the dairy industry, agriculture and horticulture. The drug's abuse in animals shortens their lives and makes them barren sooner. Even its misuse is reported among trafficked children, injected to accelerate puberty among girls. It is also being misused to speed up deliveries for pregnant women in overcrowded government hospitals.
Tags: Dairy Industry • Drug Abuse • Drug Ban • DTAB • National
Month: Current Affairs - April, 2018