World's tallest sandcastle built in Denmark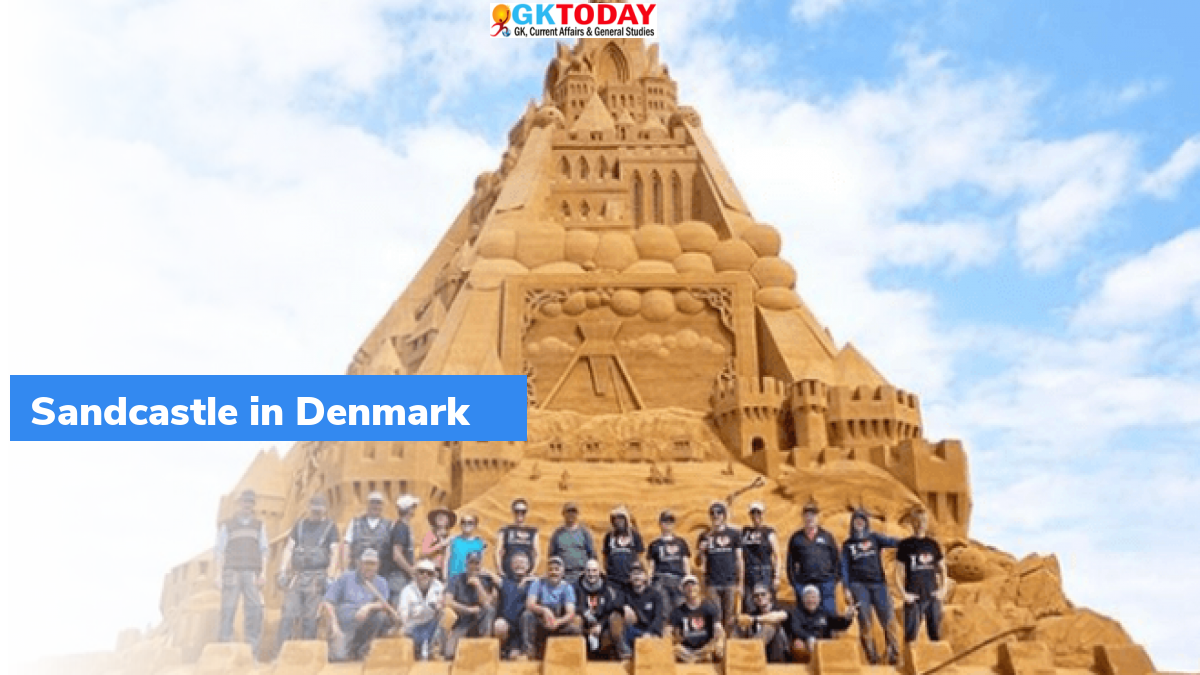 World's tallest sandcastle was built in Denmark. It has established new Guinness World Record of 21.16 metres. Denmark's new sandcastle is 3.5 meter taller than earlier record of 17.66-meter set by Germany in 2019.
About Denmark's Sandcastle
Sandcastle is built in the shape of a triangle in order to avoid collapse like many others have. A wooden structure has been built around the sandcastle to allow artist to carve incredible figures in sand. It is a highly decorated monument in small seaside village of Blokhus. It was made up of 4860 tonnes of sand and is reminiscent of a pyramid.
Blokhus Village
This village is located in Jammerbugt Municipality of North Jutland in Denmark. This village is a popular beach town accounting for around 1 million visitors every year. It was originally named Hune Hvarre. In 1600s there were barely any trees this village. So, timber was imported from Norway. In order to store timber, locals constructed some houses out it. These houses are called as 'block houses' after which village has been given Danish name Blokhus.
About Denmark
Denmark is a Nordic country in Northern Europe. It is the southernmost Scandinavian countries comprising of a peninsula, Jutland, and an archipelago of 443 named islands. Largest archipelago are Zealand, Funen and North Jutlandic Island. Islands are characterised by flat, low elevation, arable land, sandy coasts, and temperate climate. It is bordered by Germany. It is a founding member of NATO, Nordic Council, OECD, OSCE, and United Nations.
Is Denmark a developed country?
Yes, Denmark is a developed country. Danes are having a high standard of living. The country ranks among several metrics of national performance such as education, health care, protection of civil liberties, democratic governance and LGBT equality.
Month: Current Affairs - July, 2021
Category: Art & Culture Current Affairs • International Current Affairs
Topics: Blokhus Village • Denmark • Members of the Nordic Council • Nordic countries • World's tallest sandcastle
Latest E-Books