Why the Economic Slowdown is taking place?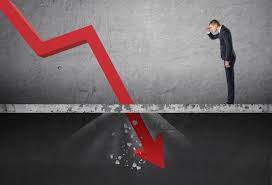 The release of the first-quarter data for the financial year 2020 came as a rude surprise to economists and policy planners in the country. Due to a fall in private consumption growth and investment rate, GDP growth has fallen to barely 5% while Nominal GDP growth has reduced to 8%. This fall in GDP has come at a time when the country is already battling a slowdown in the auto manufacturing, construction and FMCG sectors. These sectors are some of the most employment-intensive sectors in the country and fall in production means that several job losses are taking place.
Understanding the economic slowdown
The nominal GDP growth has slowed to barely 8% in Q1, 2020. Since nominal GDP is used a proxy indicator for income growth.
A slowing Nominal GDP growth means that the Indian Government will be able to realize less collections in tax income. Currently, the Indian Government has recorded an 11% nominal growth in Union Budget and 15% in tax revenue growth.
 The biggest slowdown in economic growth has been observed in the manufacturing sector which has fallen from 12.1% to 0.6%. Other sectors like mining, quarrying, agriculture forestry and fishing has also recorded a subdued growth rate of barely 5%.
The construction sector, which also employs a large amount of workforce, has grown at barely 5.7% which is the lowest in the world.
Is the economy in a recession?
No, while the world is staring at an economic recession, fortunately for India, the economy is growing though only at a rather subdued rate. This is however not good for a nation like India which needs a high growth rate to provide a sustainable economic environment for its large population.
Why is a slowdown taking place?
One of the main reasons for the fall in Indian Economic growth are the two mega decisions made by the Indian Government. These are the demonetization in November 2016 and the rollout of the goods and services tax (GST) in July 2017, both of which have disrupted the Indian economy.
Also, the investment scenario is India is highly constrained as the private investment has fallen significantly due to a low demand, policy interventions and ensuing global factors like the uncertainty of the Brexit and the US-China Tariff Wars.
Topics: Economic growth • Economy • Economy of India • Gross domestic product • India GDP rebasing • Macroeconomics • MINT • National accounts
Latest E-Books