Union Government to roll out BS V norms from April 1, 2019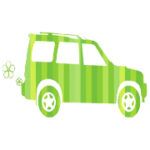 Union Government has decided to advance the date for implementation of Bharat Stage (BS) V and BS VI emission norms for four-wheelers in order to reduce vehicular air pollution from road transport sector.
As per advance dates,  BS V norms will be rolled out from 1st of April, 2019 and BS VI norms from 1st April, 2021.
In this regard draft notification was issued Union Ministry of Road Transport and Highways as per the Auto Fuel Policy, 2003.
About Bharat stage (BS) norms
Bharat stage (BS) norms are emission standards decided by the government to regulate the amount of air pollutants from vehicles. They were adopted in line with European regulation standard 'Euro norms' in 2000.
So far, 4 states of Bharat stage (BS) norms have been issued by government. In each stage certain limit is specified on the released pollutants and in the succeeding higher stages, the BS norms reduces the limit of pollutant emission.
Issued BS stages are
BS-I      Euro 1     2000
BS-II    Euro 2     2005
BS-III   Euro 3     2010
BS-IV   Euro 4     2015 (63 cities till 1 April 2015)
Earlier, Saumitra Chaudhri Committee had recommended to introduce even lesser vehicular pollutant releasing BS-V (0.005 rspm) and BS-VI (0.0025 rspm) norms throughout the nation by 2022 and 2024 respectively.
Month: Current Affairs - November, 2015
Topics: Automobile Sector • Business • Economy • Environment • Ministry of Road Transport and Highways
Latest E-Books