RIMPAC 2018: 26 countries including India to participate in biennial exercise in US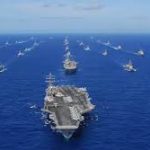 The world's largest international maritime warfare exercise Rim of the Pacific (RIMPAC-2018) will see participation of 26 countries, including India. The exercise will be held from June 27 to August 2, 2018 in and around Hawaiian Islands and Southern California.
The theme for this year's RIMPAC exercise is "Capable, Adaptive, Partners." Four countries Brazil, Israel, Sri Lanka and Vietnamare are participating for first time. US had withdrawn invitation of Chinese navy in response to China's continued illegal militarisation of islands in disputed South China Sea.
Key Facts
RIMPAC 2018 will see participation of 47 surface ships, five submarines, 18 national land forces, and more than 200 aircraft and 25,000 personnel. New Zealand will be serving as sea combat commander in this edition of exercise, and Chile serving as combined force maritime component commander. This will be for the first time non-founding RIMPAC nation (Chile) will hold component commander leadership position.
In this edition, RIMPAC for first time will see participation of land-based unit in the live fire event. It will feature live firing of Long-Range Anti-Ship Missile (LRASM) from US Air Force aircraft, surface-to-ship missiles by Japan Ground Self-Defence Force and Naval Strike Missile (NSM) from launcher on back of Palletized Load System (PLS) by US Army.
Rim of the Pacific (RIMPAC) Exercise
RIMPAC is the world's largest international maritime warfare exercise. It was held for first time in 1971, since the held biennially near Honolulu, Hawaii (US) during June and July of even-numbered years. It is hosted and administered by United States Navy's Pacific Fleet (headquartered at Pearl Harbour) in conjunction with Marine Corps, Coast Guard, and Hawaii National Guard forces under control of Governor of Hawaii. For this exercise, host country US invites military forces of countries from Pacific Rim and beyond to participate. The biennial exercise seeks to provide unique training opportunity to participants in order foster cooperative relationships to ensure the safety of sea lanes and security on the world's oceans.
Month: Current Affairs - June, 2018
Category: Defence Current Affairs
Topics: China • Defence • Military Exercises • Naval Exercises • Pacific Ocean • RIMPAC 2018 • United States
Advertisement