Pradhan Mantri Surakshit Matritva Abhiyan (PMSMA)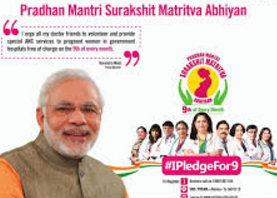 The Union Government has launched Pradhan Mantri Surakshit Matritva Abhiyan (PMSMA) to provide free health check-ups to pregnant women at government health centers and hospitals. The Scheme was unveiled by Union Minister of Health and Family Welfare J P Nadda in New Delhi.
Key facts
PMSMA has been launched as a national programme with an aim to reduce Maternal Mortality Rate (MMR) and Infant Mortality Rate (IMR) through safe pregnancies and safe deliveries.
Target Beneficiaries: All pregnant women who are in their 2nd and 3rd Trimesters of pregnancy. It is expected to provide free antenatal care to about 3 crore pregnant women across the country.
The programme will provide assured, comprehensive and quality antenatal care on 9th of every month (fixed day).
The services would be provided by gynecology specialists/ physicians with support from private sector doctors. Private practitioners will play a critical role in supplementing the efforts of the Government.
In addition to antenatal checkups, services like ultrasound, blood, and urine tests will be provided to the beneficiaries.
Significance
As India strives to achieve the Sustainable Development Goals (SDGs), reducing MMR and IMR becomes important. As a pregnant woman can develop life-threatening complications with little or no advance warning, this initiative is a significant step towards reducing maternal mortality in India.
Quality and coverage of health facilities would get improved.
The initiative could avoid many preventable deaths if every pregnant woman is routinely examined and appropriately followed up.
Category: Government Schemes Current Affairs
Topics: Academic disciplines • Demography • Infant mortality • Maternal and child health in Tanzania • Maternal death • Medical terminology • Midwifery • Millennium Development Goals • Population • Reproductive health • Sustainable Development Goals
Latest E-Books